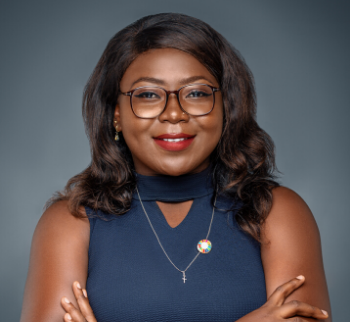 Ndi Nancy Saiboh
Independent Audit Committee Africa
Ndi Nancy Saiboh (Ms.) is the Co-Founder/ CEO  of Actions for Development and Empowerment (ADE), a non-profit, grassroots, and youth-driven organization founded by a with the aim of empowering young people to act around issues that affect their lives and play an active role in the development process thereby creating positive change in their communities and Africa at large. ADE works to ensure citizen involvement, and participation in the overall governance of the state and build the capacity of young people to hold the government accountable to its service-delivery obligations through informed demands.
She is also a social justice advocate with over five years of experience in community outreach and organizing. She is particularly interested in public accountability and the use of law to improve the socio-economic wellbeing of citizens, with a priority for youths, women and vulnerable groups. Ms. Ndi is also the Country Coordinator for Follow The Money- Cameroon, an institution that seeks to ensure improved, and increased accountability in the government procurement process, as well as ensure accountability for public finance meant for Community and Social Development. She has represented the young people of Cameroon on a number of National and International meetings, and convenings.
She represented Cameroon at the African Youth Congress, on Anti-Corruption convened in December of 2018 by the PResident of the Federal Republic of Nigeria. She is the former Coordinator of Citizens Governance Initiative a community-based organization that helps to improve organizational capacity for CSOs and NGOs in Cameroon. She just launched the SDG School Tour which seeks to empower students, especially girls on creating awareness around the sustainable development goals and carryout community initiatives aimed at promoting SDGs 4, 5, and 6.
She also launched the EmpowerHer Champaign aimed at sensitizing adolescent girls about proper Menstrual Hygiene as addressing menstrual taboos and myths surrounding menstruation. Ms. Ndi holds a BAchelors in Common Law, and a Masters in English Law from the University Of Yaoundé II-Soa Cameroon.