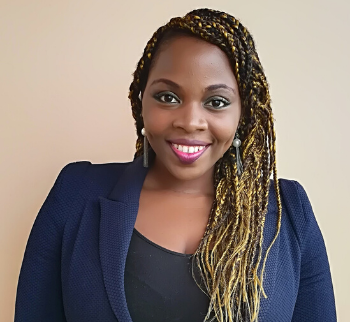 Olivia Mukam Wandji
Independent Audit Committee Africa
Olivia Mukam-WANDJI's passion for solving problems is what has given her the name "Solutionneur." As a certified Project Manager (PMP©), with 10 years record of accomplishments in managing more than 300 people, on dozens of projects worth more than $2million; Olivia has deployed her expertise in project management in both the for-profit (business) world and the non-for-profit (development and government) spheres.
 Currently, in addition to her role as the Executive Director of Solutionneurs Initiative; Olivia serves as the Country Investment Advisor for Afrilanthropy, a European impact-investment-platform present in 9 African countries. In this position, she serves a bridge between social innovators on the ground and impact investors from around the world, interested in high impact, proven and scalable social businesses.


Through the SolutionneursInitiative.com (previously known as Harambe Cameroon) she has worked with and equipped thousands of youth with knowledge, skills and information to build, launch and operate better social business projects. Thanks to the Solutionneurs Initiative's annual social-business-plan-competition, 7 youth businesses were launched, and each recruited on average 10-15 other young Cameroonians. 

In addition to this grassroots experience with thousands of startup founders and project-holders, Olivia also served as a board advisor in prestigious companies such as Microsoft Africa (2013-2016),  and she managed portfolios of impact projects for strong institutions such as the United States Department of State's U.S Embassy in Yaounde (2013-2017).