The Future Awards Africa celebrates 100 COVID-19 heroes across Africa at Beating Corona Telethon | 27 November, 2020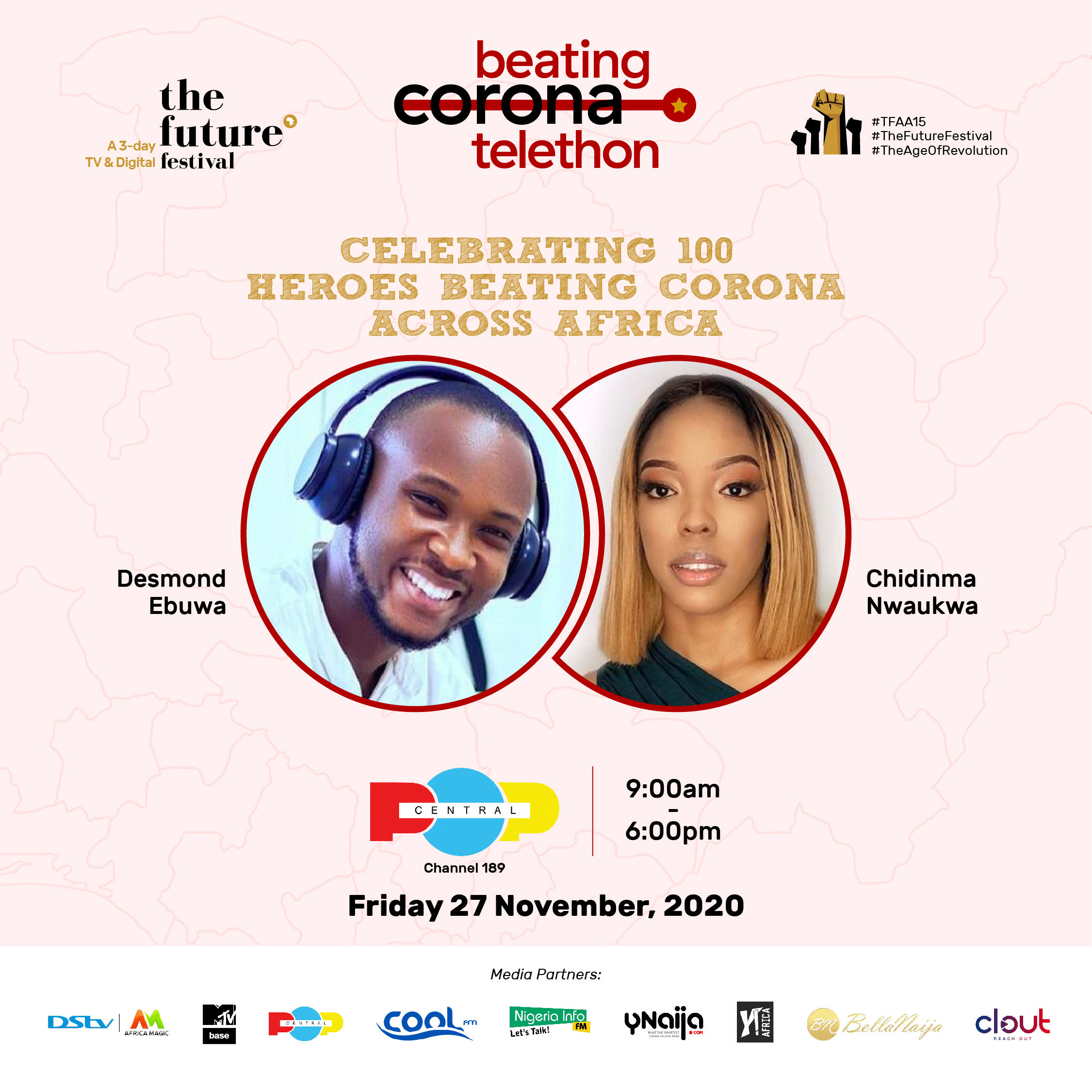 In light of the resurging cases of COVID-19 in Nigeria, leading African intervention database, BeatingCorona.Africa has announced The Beating Corona Telethon which serves as the Day 1 activity of The Future Festival by The Future Awards Africa (TFAA).
The telethon is a 6-hour television program, top of every hour on Pop Central (DStv Ch 189), set up to honour 100 young African heroes, those at the forefront of the fight against COVID-19. It would put the spotlight on the doctors, nurses, and many others making an  effort to help limit the spread of the virus and assist people who have been affected by the economic and social effects of COVID-19.
Speaking on this, the Chief Intelligence Officer,  RED | for Africa, Isime Esene saidt: "The major reason why we are having this telethon is to spotlight and amplify young people sticking out their necks to save lives and sustain livelihoods despite the challenges posed by the pandemic. The telethon gives us a unique opportunity to see some of the people behind our most remarkable interventions and to celebrate them as they deserve."
"Among these 100 heroes are individuals who helped raise funds to support the less privileged, provide food for their communities,  promote ideas to help track interventions, and many more," he added.
Join the celebration of The Beating Corona Heroes, top of the hour on 27 November, 2020 between 9am – 6pm on Pop Central TV. Let's crown the ones who took an extra step to save our lives.
BeatingCorona.Africa was established by The Future Project in partnership with YNaija and Culture Intelligence from RED as an innovative platform that gathers data of all COVID-19 interventions in Africa. The platform spearheaded the creation of a comprehensive and accessible information database on what organizations, brands, groups, corporations, and individuals are doing to assist in the fight against the pandemic.
The Future Festival is presented by The Future Awards Africa and Y! Africa. Media partners are MTV Base, Africa Magic, Pop Central, Cool FM, Nigeria Info, BellaNaija.com and YNaija.com.
Follow @TFAAfrica to keep up with the latest news on TFAA. The official hashtags for 2020 are #TheFutureFestival, #TFAA15 and #TheAgeofRevolution.