The Future Awards Africa: Class of 2020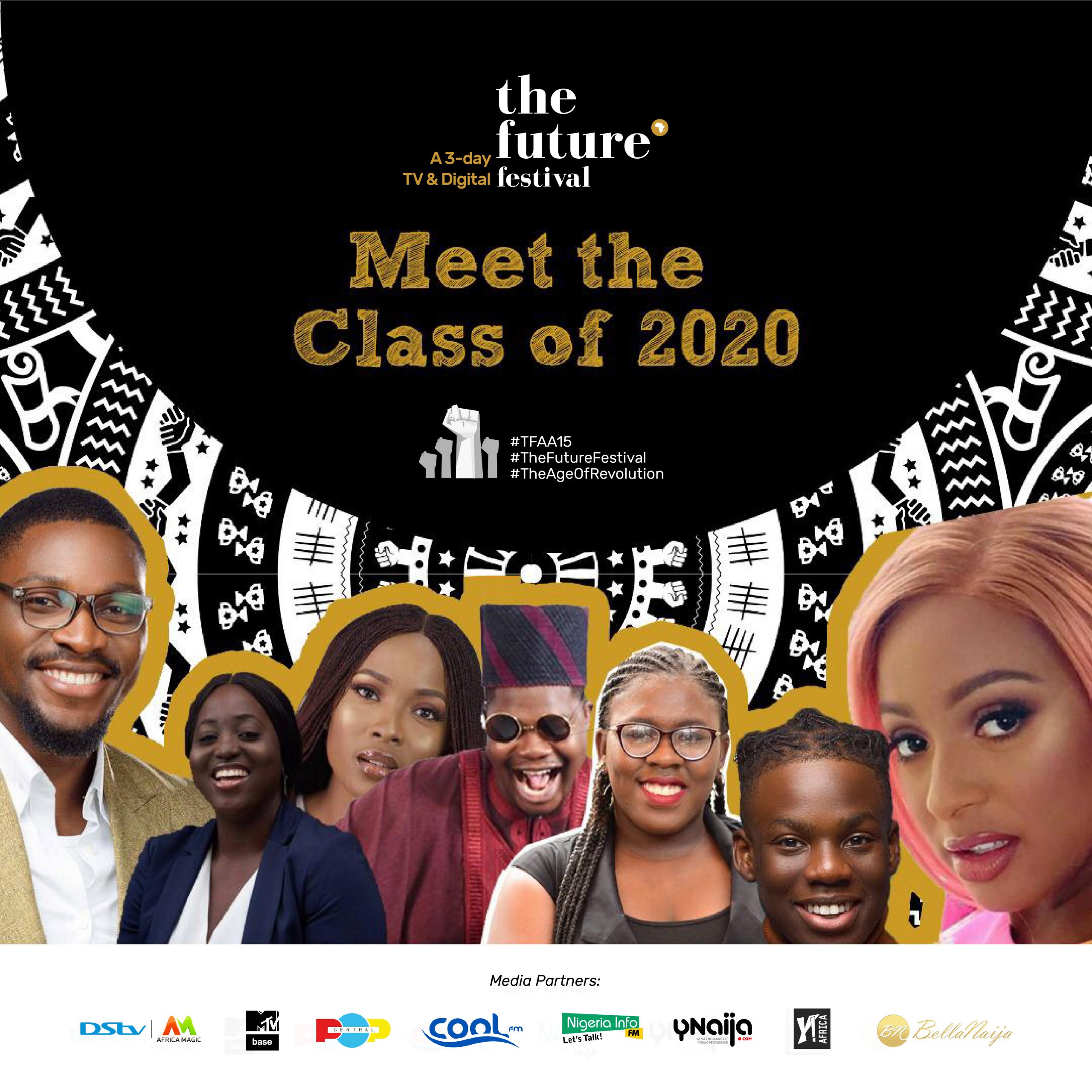 The Future Awards Africa Prize for Film
Johnson. E. Awolola, 28.
The Nigerian film industry is constantly evolving, with new opportunities to collaborate with streaming giants and internationally renowned corporations. All this progress is being championed by a generation of young filmmakers who are honouring the past while looking firmly to the future. One of the young trailblazers forging a new path for film in Nigeria is Johnson E. Awolola, a 28 year old video editor, filmmaker and film director working out of Abuja.
Embodying the polymath approach to cinema that has come to define the millennial and Gen-Z generations, Awolola has shown mastery of all aspects of film production and creation, honing his skills through opportunities to edit high profile feature-length films, short films and documentaries for International Donor Agencies and Media Production companies, some of which include; British Broadcasting Corporation (BBC) Media Action, Newage Network, Media service centre, Cinema Kpatakpata, Norwegian Media Company; Peridot, USAID, UKaid, Save the Children International, Tship, and Heinrich böll stifun.
In 2019, he segued from working primarily with non-profits and media organizations, bringing the grit and unique perspectives from documentary making into his work in Nollywood to the critically acclaimed Oloture and The Lost Café and Drawing Strength for Rok Studios. He has also edited extensively for television, working on MNET's Halita, EbonyLife's Sons of the Caliphate.
Dafe Oboro, 25 .
In 2020, after months of sitting on the news, Dafe Oboro was finally able to announce he had joined one of the most elite groups in the world. He had worked as a director on Black Is King, the transcendental companion visual album to the 2019 remake of the much beloved The Lion King, conceptualized and executed by global superstar Beyonce Knowles. This come up put Dafe Oboro heads and shoulders above his peers and necessitated his inclusion to the Future Awards class of 2020 for excellence in film.
But Oboro's new status as an in-demand film maker is an honour that he has earned squarely. He began his career as a fixer and film maker from his university days while studying Journalism in the U.K before returning to Nigeria to craft a new vision of Nigerian cinema that embraced the chaotic, dystopian glamour that exists in most of Nigeria's small towns and incorporated his long-held interest in fashion design. Oboro made in his name in film through forward thinking fashion focused collaborations with fashion savant Mowalola for the Kilonshele Gan Gan editorial for Love Magazine and Miu Miu Babes (which pays homage to the camp classic Blackberry Babes) in collaboration with in-demand photographer Ruth Ossai. Oboro has created a niche that is all his own, and he has only at the start of his career.
Ademola Falomo, 22.
For far too long, music videos were dismissed by Nigerian cinephiles as the past time of amateurs, but the sub-genre has evolved so much in the last 10 years, it has begun to attract its own audience, inspired by the grainy efforts of the early 2000's and beyond. Ademola Falomo was born in 1998, the very cusp of the music revolution that returned focus to Nigerian music and has come full circle, drawing from his duality as a resident of Lagos and Dubai and his keen interest in Spanish cinema to craft a new visual language for music videos in Nigeria.
As a vanguard for a new generation of music video directors, barely out of their teens and fed on a diet of global cinema, Falomo is known for his preference for natural light sources, handheld shots, and film colouring that gives his videos a distinct diffused, hazy aesthetic with amber tones.
In 2019, Ademola worked on projects which include; Try me short-film music video by Tems, Wetin Dey by Odunsi, Alte by DRB, Summer collection by Twenty six, New levels for PUMA and his more recent 2020 projects include Damages project by Tems, Omologo video by Lil5ive, Comfortable by Noir, ABRACADABRA by Boj amongst others. Over the years, he has worked with phenomenal artists like Odunsi (The Engine), Santi, D-O, Wavy The Creator, Zamir, Kah-lo and Riton.
Dawa Thompson, 27.
Dawa Thompson's evolution as only marginally more interesting as his evolution as a part of Nigeria's arts and culture scene. The 27-year-old Nigerian repatriate is a video director and a graduate of Film and Television production from Georgia State University in Atlanta. While he is popularly known for spearheading the creation of award-winning music video projects for top Nigerian artists including Wizkid, Davido, Kizz Daniel and Tiwa Savage, his influence extends beyond music and into the very fabric of visual branding in Nigeria.
Often referring to himself as the 'Nigerian fixer for commercials, music videos, and brand films', he has collaborated with world-class creatives on several projects for global brands like Red Bull, MTN, and Nike, helping craft advertisements for Nike Women that celebrated feminism, challenged stereotyping around women in football and encouraged a new generation of female football enthusiasts to find pleasure in the sport. His work as a music video director is distinguished by his unique POV's, his ability to encourage popstars to step outside of convention and experiment with visual imagery that stretches the boundary of their public image and tests the audience's capacity for new and exciting concepts.
His refreshing visual experiments and representations have set him apart as one of the top-notch music video directors in the Nigerian music scene in recent times, and some of his notable works include 49:99 by Tiwa Savage, Redbull BC One advert, Joro video by Wizkid.
Nora Awolowo, 21.
Not many people knew of Nora Awolowo before her collaboration with celebrated journalist and activist, Kiki Mordi, Life At The Bay, went viral and was eventually chosen by Real Time Festival and the Africa International Film Festival as official selections for their 2019 editions. But then again, this is a hallmark of Nora Awolowo's career, she is content to stay behind the camera, crafting narratives and challenging stereotypes unless it is necessary that her voice be joined to the fray.
Her film, Life At The Bay, would turn out to become far more relevant and powerful than she could have anticipated. It is the last bit of comprehensive documentary footage of Tarkwa Bay, capturing its essence before the cove was raided in 2020 by Nigerian military forces and the settler communities forcefully evicted. It exists as a reminder of the power of cinema to document and preempt violence.
But Nora is not just a filmmaker, she is also passionate about empowering other women. Awolowo has since 2018, shared her knowledge on film and filmmaking with women-only cohorts, volunteering her time and expertise to even out the frankly embarrassing gender disparity on the technical side of the filmmaking industry. She has also worked on other projects, directing and releasing the short film 'Symphonies' in late 2019.
Temi Evo, 25.
Breaking into the film industry as a independent filmmaker is a leap of faith. Years of cronyism and gatekeeping has led to a recycling of talent and extremely limited openings for upstarts looking for their big chance. While others keep attending auditions and hoping for a break, fashion photographer and filmmaker Temi Evo is taking things into his own hands and forging his own brand, one project at a time. Specializing in aerial drone photography and visual collages that force his audiences to reexamine their biases about familiar vistas through new perspectives, Evo's work is fresh, his POV is strong and his trajectory exciting.
Best known for his most recent project 'Hands and Mind' alongside Chigozie Obi. 'Hands and Mind', a documentary which was created to expose discrimination against people with albinism and highlighted the struggles of people who live with the disorder from their perspective. Evo has worked with fashion pioneers like Adebayo Oke-Lawal of Orange Culture NG, documented Lagos's townships through his city series that explored Ebute Metta, Ojo, Tarkwa Bay and Badagry and television commercials for Film House Cinemas. Temi Evo has attained commercial success while retaining his creative independence and bringing his own unique perspectives to an industry desperate for fresh perspectives.
TG Omori, 25.
TC Omori understands the power of spectacle. It is certainly was one of the reasons he announced he would be directing the music video for Naira Marley's controversial 'Am I A Yahoo Boy?' at the height of the latter's clash with the Economic and Financial Crimes Commission (EFCC). Even though Naira Marley would eventually get detained on charges of corruption, the gamble paid off for the Boy Director, who gained an influx of Marley's near fanatical fanbase and announced him as a video director with something to say and a stomach for trouble.
Since then TG Omori, has seen a phenomenal rise in his profile and popularity, and has used the opportunity to reshape music video execution in Nigeria, both as a music video director and cinematographer. He has directed music videos for new generation recording artists across various genres including Olamide, Wizkid, Burna Boy, Tekno, Kiss Daniel, Fireboy DML, Falz, Timaya, Naira Marley, and many others while weathering the occasional controversy with such grace he has come out on the other side of each even in more demand.
Amongst his most popularly known projects in 2019 were 'Vibration' and 'What if I say' by Fireboy, Olamide's 'Pawon', Tekno's 'Skeletun', Tekno (feat. Zlatan Ibile) – 'Agege', Blaqbonez – 'Shut Up', Victor AD – 'Kpokpo Didi'. And in 2020, he directed Burna Boy's 'Odogwu', Oxlade's 'Away', DJ Neptune, Joeboy & Mr Eazi's 'Nobody', Joeboy's 'Call' and many more.
The Future Awards Africa Prize for Content Creation
Debo 'Mr Macaroni' Adedayo, 27.
Over the years, Instagram comedy has grown to become an easy sell in Nigeria due to its instant availability, relativity and easy access. However, over the last two years, a lot of Instagram comedians have taken social media by storm, reigning and fading away. For some, they have been able to create a niche for themselves and maintain their relevance while for others, the flames have gradually burned out.
One person whose flame has however continued to burn even brighter and has taken everyone by surprise is Debo Adebayo popularly known as Mr Macaroni.
Since his emergence in the Nigerian comedy space, his followership has grown to over 2 million across his social media platforms and in just one year, he has successfully become a household name. His style of comedy can be best described as hilarious, sexual, tasty and morally conscious. Lest we forget, his now-famous trademark slangs like 'You are doing well' 'freaky freaky' 'fantabulous' 'Are you there' have become regular slogans around the country.
Debo is just not another funny voice, he is also a seasoned activist whose comedy has taken a new, urgent bent in response to the #EndSARS protests that have occurred around the world in response to police brutality in Nigeria. As a leader of early protests and an active commentator, Mr. Macaroni has used his platform to spread the message to hundreds of thousands of listening Nigerians.
Babatunde 'Ikorodu Bois' Sanni, 23.
It is easy to dismiss the Ikorodu Bois as just another band of itinerant comics ekeing away at an existence. But that would mean you are not a studious observer of Nigerian comedy. The country's most successful comedy export is its least conspicuous. Mark Angel Comedy, which bears many similarities to Ikorodu Bois has millions of active, engaged followers on Youtube who come and stay for their unique brand of shtick. The Ikorodu Bois have endured (they have been creating videos for several years now) because they are almost fanatical in their understanding of cinema and resourceful in the execution of their brand of parody based comedy.
The three young boys are usually involved in the videos and their eldest brother Babatunde Sanni edits the videos and manages them. They dubbed their name from the city of Ikorodu in Lagos, Nigeria where they live. That persistence, innovation and intelligence has paid off. Brothers Babatunde Sanni, 23, Muiz Sanni,15, Malik Sanni, 10 and their cousin Fawas Aina, 13 have become household names in Nigeria, with their parody videos of everything from film trailers to music videos to social media memes have become eagerly anticipated, drawing thousands of views per video.
They have been featured on most major global news platforms, are on first name basis with a number of high profile Hollywood celebrities and have had their careers supported by none other than Netflix. With those kind of heavy hitters in their corner, it is hard not to root for the Ikorodu Bois as they transition into the next phase of their careers.
Apaokagi 'Taaooma' Maryam, 21.
Made famous by her unique ability to convincingly play several distinct characters with their unique tics in her skits, Taaooma has grown from an online sensation to a widely loved and accepted comedian that is continuously reinventing herself and creating skits that resonate with her audience. Making her mark as one of the most powerful voices in comedy, Taooma has grown her audience to over 2million followers across all social media platforms through consistent delivery of excellent content, her understanding of the Nigerian psyche and her ability to find humour in the peculiarities of Nigerian life.
In March 2020, the 21-year-old comedian created a comedy health skit to spread information about the COVID-19 that quickly went viral and landed her an invitation to talk about the pandemic on 'Inspiring Africa' show on EuroNews in May. She was also a powerful force for education and advocacy during the 2020 #EndSARS protests inspired by police brutality complaints in her home country Nigeria.
Asides being a comedian, she is the founder of a food company and also a director at a cinematography film company.
Dimma Umeh, 27.
In 2019, Dimma Umeh committed the worst crime an influencer can ever make; she criticized the industry in which she worked, pointing out the nepotism and incompetence that had prevented other influencers less privileged than her from growing their brands and suggested a way forward. That kind of courage is what has separated lifestyle blogger Dimma Umeh from her peers and helped her amass a loyal following on Youtube that is 365,000 strong.
Known for consistently sharing her ideas on products, social topics in general and attracting over 23.99million views, Chidinma Umeh has earned a renowned presence and recognition as one of the most prominent YouTubers in Nigeria and Africa at large. Her opinions are very trusted in her niche as she focuses majorly on beauty, lifestyle and travel vlogs.
Loved by Nigerians for the way she promotes the Igbo culture, she has been recognized and featured in Essence Magazine, CNN in 2019, several Google seminars, and The Cover.
Winifred 'Zeelicious Foods' Emmanuel, 26.
You know you've made it big as a food vlogger when This Day Newspapers writes an article about you and calls you 'Youtube's Culinary Queen'. In a nascent industry that combines technology, film and food and whose optics aligns more with married career housewives than Gen-Z entrepreneurs, Winifred Emmanuel, a self-taught culinary expert and food content creator has carved her niche and proven there is no industry that cannot be conquered with grit and consistency.
Winnifred is passionate about African recipes and hopes to own a culinary school in the near future. But she was never content to wait her turn, taking her enthusiasm for food to Youtube where she created recipes and built herself an audience. Over time, she has formulated an impressive cookbook full of mouth-watering recipes that have caused such a stir she was able to parlay her Youtube channel into a publishing deal. With her work garnering over 14 million views on Youtube, Winifred has also worked as an influencer for a large number of brands in Nigeria.
In 2019, she started a food travel tour and visited several places which inspired her recipes, including her new creation 'zeelicious quick fix' which involves fast recipes.
Tomike Adeoye, 25.
In Nigerian media circles, the gold standard is an influencer that is popular with older demographics but hip enough to still appeal to the notoriously selective Gen-Z. There are only a handful of public figures who fit into this narrow niche, Genevieve Nnaji, Ebuka Obi-Uchenu and now Tomike Adeoye.
And it has taken Tomike Adeoye a long time to get here. She started out as an anchor for several exclusive and star-studded shows such as VVIP EVENTS, WW&W show, Out and About, building her brand and honing her skills in front of the camera before landing a star making spot on the Celebrity Tracker segment on Moment Z. Since then Tomike Adeoye has transitioned fully into influencing along side her career as an anchor, carving her niche and growing her platform to accommodate both millennials and generation Z.
In recent years, she started vlogging via her Youtube channel based on her personal life experiences after she realized her passion for it. Having become a leading figure in creating tailored content, she engages her audience with beauty, fashion and lifestyle-related content, as well as cooking. Her persistence has paid off, she is currently one of the Ambassadors for beverage giant Nigerian Breweries.
Salem King Ibrahim, 25.
To hear Salem is to be inspired to take action. Combining faith and innovation is a tough sell for most influencers but Salem King makes it all looks so effortless because he believes in the story he tells and he shares from experience. Salem's calling card is an authenticity that rings so clear in all of his videos.
He is a content creator, creative storyteller and speaker with growing repute in new media/communication circles. Starting with a passion for people and social development, Salem has been able to leverage online communities to build a reach of 30,000 people weekly and has grown to become a successful social media influencer. He uses his platforms to share content mostly focused on mobilizing creative young people to become vanguards for social change. Over the years, he has trained over 600 creators, held capacity-building workshops, spoken at events and successfully built a community of individuals who are committed to growth and catalyzing change.
Salem King's authenticity is infectious and prominent brands like YouTube, Cowrywise, Mentally Aware NG, Wazobia MAX TV amongst others have commissioned him to bring that authenticity to their products through video ads and voiceover work.
The Future Awards Africa Prize for Literature
Romeo Oriogun, 28.
Romeo Oriogun has been writing poetry for a long, long time. Many will tell you otherwise but his poetry and literary conversations archived on Facebook from the early to mid 2010's suggest otherwise. But when Romeo Oriogun was finally ready to make an entrance in the literary community, he did so with the candor and fearlessness that has come to define his career as a poet; he entered for and won the Brunel Prize for poetry with his first official poetry collection, described as "complex and ultimately beautiful writing on masculinity, sexuality and desire in the face of discrimination and persecution."
In a country like Nigeria, rife with religious hypocrisy, Oriogun's work stood as a challenge to the status quo. His body of work continues that affront, even as he studies as a Resident Scholar at Dunster House a W.E.B. DuBois Research Fellow, and a Harvard Scholars at Risk Fellow for Spring 2019 as well as a position at the prestigious Iowa Writer's Fellowship. Oriogun has perfected his beautiful exploration of Nigerianness, masculinity, and sexuality in his debut full-length collection Sacrament of Bodies (2020) and his chapbook Museum of Silence (2019), winning the John Logan Prize for Poetry at the Iowa Writers' Workshop.
He continues to challenge archaic views on sexuality, mentors younger writers and advocates for a literary communities free of ethnic, religious and cultural bias.
Tobi Eyinade, 28.
It is almost inconceivable that one of Nigeria's most enduring startup stories would be a little book store that could. But this is exactly what Tobi Eyinade has done with her startup Roving Heights, arguably the country's most progressive book store. Tobi Eyinade implemented a vision for the commercialization of literature in a country where various policies and the inherent reading culture make it difficult. She has leveraged the power of the internet, selling books via Instagram and Facebook and building a community around Roving Heights by supporting Book Clubs around the country, stocking books and having what is arguably one of the best customer service journeys in the country.
But Tobi sees that there is more that can be done in the Nigerian literary industry, especially for publishing houses and authors who are clueless on how to market their books to an audience that many have dismissed as disinterested in reading. To that end, she started the first of its kind P.R. agency for books named 'The Book Lady NG', which funnels the experience and data she has gathered from running Roving Heights into building marketability plans for authors and publishers. Tobi Eyinnade is impressive, no matter how you slice it.
Tomi Adeyemi, 27.
When Tomi Adeyemi's 6-figure 3 book deal was announced in the mid 2010's from relative obscurity, everyone wondered what she was going to deliver. They needn't have worried because Adeyemi's series Children of Blood and Bone has introduced a whole generation of young African American children to a stylized Nigeria in which where magic is practiced openly, were-creatures roam the plains and a female protagonist with silver locs who is tasked with saving magic and redeeming her people.
Currently in the publishing cycle of the second book of the trilogy, Children of Virtue and Vengeance, Tomi Adeyemi has quieted all her critics and earned her place in the canon of Young Adult fantasy writers, a hotly contested genre that is revitalizing the literary industry and challenging all the conventions in writing as we know it. At 27, Adeyemi is only at the very start of her career as a writer and inspires excitement about what other genres she will cover in the course of her career and the millions of young Nigerian women she will inspire to pick up a pen and begin to put down their most outlandish stories.
Not bad for a woman whose sophomore novel was featured on Good Morning America's December 2019 Book of the Month.
Ebenezer Agu, 27 .
Many are under the impression that Lagos is the epicenter of the literary movement in Nigeria. Who would blame them, after all in tried and tested fashion, most creatives in Nigeria take a bus or a plane and head west to the city of neuroses and opportunities. But the reality is, the South East is the true home of many of Africa's most prolific writers, giving us Flora Nwapa, Buchi Emecheta, Chris Abani, Chiagozie Obioma, Okey Ndibe, the revered Chinua Achebe and now Ebenezer Agu.
As an Enugu based poet, growing up in the same hometown that nurtured Chimamanda Adichie, Ebenezer Agu understands the power of having your voice heard and finding a community of like minded literary souls in your hometown. He draws from his childhood in the market city of Onitsha in his poetry and non-fiction and is committed to providing a platform for other writers to find a global audience.
As the visionary founder and editor-in-chief of 20.35 Africa poetry series, without funding Ebenezer Agu spearheaded an anthologized curation of the African poetry scene, with mentions in Brittle Paper and the James Murua Blog. The platform also mentors and nurtures emerging poets, preparing them for the complex but rewarding poetry industry and its unique quirks. Agu is committed to creating institutional development in the South East that prioritizes poets from the region and connects their work to the world.
Logan February, 21.
Logan February was recently featured on the BBC World Service for their poetry. Such is the diverse reach of this young prodigy and such is the promise they bring to the execution of the genre in Nigeria. Logan February is a diverse Nigerian poet, essayist, music reviewer, and singer/songwriter whose works have been featured recently in The Rumpus, Dazed, The Guardian Life, Lambda Literary, Washington Square Review, Africa In Dialogue, and more. They are also one of the few poets in Nigeria whose work has transcended literary circles and found purchase in mainstream pop culture via collaborations with creators working in other fields.
Their debut full-length collection Mannequin in the Nude (2019), a freeing exploration of grief, God, the erotic, and the sexually diverse, gave them a popular audience and a lot of recognition, which in turn placed them in the limelight as a poetic force emblematic of Gen Z freedom.
In 2020 they collaborated with the duo behind music group The Ignis Brothers, contributing a poem to their debut album, The Cost Of Our Lives. They also collaborated with Burberry on their global campaign celebrating queerness, a major theme in February's poetry. February also collaborated with fashion brand Orangeculture NG on their Fall 2020 media campaign contributing a poem that was used as a voiceover for the brand's fashion film. In the process of starting a MFA in the USA and publishing a new body of work with a US publisher, February proves there is a different path for poets who do not conform to the standards and expectations of Nigerian society.
'Pemi Aguda 27.
Pemi Aguda has been a writer's writer for nearly a decade. Starting her literary career in 2009 as one half of the now defunct AfroSays blog, Aguda began to write stories that combined the mundane and the macabre, exploring the full depths of human emotion. For several years she studiously ran the Betty's Tuesday column on TheNakedConvos.com, combining it with studies and a career in architecture, all the while building the literary muscle that would come to serve her in her writing career. Since then Pemi Aguda has won the Writivism Prize for fiction with her short story 'Caterer, Caterer', moved abroad to complete an MFA in creative writing from the Helen Zell Writer's Program from the University of Michigan, and began to sweep through the US publishing industry as a star to watch.
Currently working on her debut novel The Suicide Mothers (which has already won its first prize pre-publication in the Deborah Rogers Foundation Writer's Award), Pemi's short stories earned her qualification as a winner of the Henfield Prize, a finalist for the 2020 U.S. National Magazine Award in Fiction, a 2020 Aspen Words Emerging Writer Fellow and she is only just beginning.
Nnamdi Ehirim, 26.
You would be remiss to assume that Nnamdi Ehirim is just a novelist. He is also a scholar with a specific focus on the present and future of African literature, a supporter of the arts, a multi-potentate collaborator and an investor in fintech, all of which inspires his writing. Shuttling between Nigeria and Europe, Ehirim has been writing for some time, earning writing credits in Afreada, Brittle Paper, Catapult, The Kalahari Review, and The Republic.
His debut novel Nnamdi Ehirim's debut novel published in 2019 titled 'Prince of Monkeys', follows a group of friends in Nigeria, articulating their lives and nuances with a richness of purpose, highlighting Ehirim's ability to show a relatable Nigeria in literature without compromising. With nominations for international literary prizes, commercial success in Nigeria (his novel has gone through a few reprint cycles with his Nigerian publisher) and new work on the horizon, Ehirim has expanded the canon of what is possible in contemporary Nigerian literature and proven without a doubt that post millennial stories are worth telling.
The Future Awards Africa Prize for Fashion
Destiny Uwadiare, 21.
There are many stories about Nancy Nwadire, the matriarch of the Iconic Invanity brand, one of Nigeria's true luxury brands. All of those stories have been proven true by Destiny Uwadiare, daughter to Mrs. Nwadire and CEO/Creative Director of DNA by Iconic Invanity, a contemporary women's wear line under her mother's parent label. DNA has quickly become a favourite among young, upwardly mobile Nigerian women looking to invest in iconic pieces that will stand the test of time.
Nwadire is running the brand differently, engaging in collaborations with in-demand stylists and influencers to help reposition her line as young and on the pulse of the moment. She has worked with with TFAA winner Tosin Ogundadegbe (The style infidel) on her spring-summer 2020 look book shoot which gained a lot of traction and features.
She curated her first campaign video for SS20 and Showcased SS20 at GTbank Fashion weekend as the youngest designer. She successfully launched MaskedbyDNA in collaboration with Chioma Good Hair, Moodbeauty and other influencers. Her work was featured on BEYONCÉ Black parade as the youngest designer, featured on CNN Africa's Instagram, interviewed on CNN AFRICA AVANTGARDE, and she Shot with Chuchu, Wole and Sammy for DNA unmasked photo series.
King David, 25.
Bespoke menswear is a tricky business in a country where men are socially conditioned to see fashion and expressions of self through dress as a frivolity. But David Enyinnaya Eze, a graduate from the University of Lagos with a BSc. In Business administration somehow makes it work. As the founder/creative director of K II N G D A V II D, a fashion brand that deals with handmade foot-wear and accessories, David has leaned heavily on collaboration as a way to get his brand in the faces of the country's most stylish men and built a viable business around them. With collaborations with most of the most progressive brands in the country, including Orange Culture NG, TheStyleInfidel Studios, Fruche, and Ili Official. David has been able to infuse colours, avantgarde prints and skins into the daily wardrobes of Nigerian men at home and abroad.
He has also cracked the code for mainstream success. From 2019 till date, his work has been in featured in the Black is King film by Beyonce, the Davido One Milli music video, Burna boy's 'Monsters you made' music video, Sauti Sol's 'Suzanna' music video, Fireboy's 'ELI' and 'Scatter' music videos, Naira Marley's 'As e dey go' music video, Patoranking's 'Editorial', Olamide's itel mobile videos and commercials.
Frank Aghuno.
In 2014, he founded a Lagos based contemporary fashion brand named Fruche to explore rich, historical, futuristic and modern progressive stories that challenge the notion that Nigeran/African women and men are expected to look and dress a certain way. Fruché is a mix of traditional Nigerian culture, heritage, artisanal techniques and contemporary design. The brand embodies a luxuriously modern unique sensibility that seamlessly combines outspoken narrative and bold sensuality. And his brand was recently featured on beyoncé.com as one of the African designers to support in her Black Parade 'Buy African' Initiative.
Over the years, Fruché has collaborated with international and African brands like Vlisco&Co, Dricky Stickman and KiingDaviids using an artisan approach to sustainability. Particularly interested in how pre-colonial Igbo culture practised fluid gender roles creating a sense of freedom Aghuno that is perceived absent in contemporary Nigerian society, Fruché debuted the Free Spirits 1 collection at Lagos Fashion Week 2019 and GTBank Fashion weekend 2019. The collection received rave reviews as one of the best-showcased collections and was featured on vogue. Then In 2020, he released the lookbook for Fruché's SS20 collection titled Free Spirits 2, Mmuo, following the collection inspired by the Agbogho-Mmuo celebrations practised in Nigerian Igbo culture.
Faith Oluwajimi, 23.
In 2019, 23-year-old Founder and Creative Director of Bloke, Faith Oluwajimi entered the two most prestigious competitions in the fashion industry, Fashion Focus Fund and Emerge Alara for best fashion designers in Nigeria. His unique designs and creativity won him the 'Emerge Alara' competition, and he emerged as a runner-up in the Fashion Focus Fund, cementing his status as a designer of note in the Nigerian fashion industry and setting up big shoes for him to fill.
Oluwajimi is working hard to fill them. He has successfully leveraged a mentorship with Nigerian born British designer Duro Olowu into press mentions in a number of high profile British fashion magazines, collaborated with an Italian fashion brand and shown a collection at Milan Fashion Week, all the while working on a separate collection that is set to debut at the Lagos Fashion Week 2020. All of this while exploring the possibilities of fabric pairings and unorthodox design. Heavily incorporated in his collections, Bloke is focused on reimagining the knitwear and the collections threads on the contemporary allure of deconstruction; fray hems and intentional cuts. He has been featured in Vogue, Vanity Teen, and has been worn by internationally recognized faces around the world.
Fisayo Longe, 27.
Fisayo Longe has come a long way from her days working her way up the ranks as an accountant at KPMG and dreaming of the days where she could transition into full time influencing and design. Today Fisayo Longe's Kai Collective has become a global household name, featuring in editorials and on fashion covers across the globe and being wholly embraced by the influencer community as the look of the season. This is all thanks to her decision to return home to Nigeria in 2019 and collaborate with a Nigerian pattern maker on her hugely successful 'Gaia' print, a marbled one of a kind print that has caught the collective fancy of the fashion world and launched a design trend that is trickling up to luxury quarters.
Thanks to this and a powerful digital presence, Longe's brand has been described by ELLE UK as 'transcending trends'. When she isn't designing, she is just as successful as a fashion, travel and lifestyle content creator, collaborating with brands such as Nike, Google, Lancome, Facebook and Aldo.
She now teaches aspiring creative entrepreneurs how to transition from content creators to profitable entrepreneurs through her initiative, the Clan of Creatives and has shared her insight on panels at Cambridge University, Warwick University, and the Ernst & Young Foundation.
Daniel Obasi, 25.
The Lagos-based Artist, Stylist, Art director, photographer and filmmaker, Daniel Obasi often uses local styles and collaborates with local designers to achieve 'better visual representations' of disempowered communities within Nigerian society to signify the importance of diverse and feminine subjectivity. In a series shot for Vogue Portugal in 2019 tagged Nne M, Obasi employs his dreamlike and ethereal style to create 'an alternative family portrait' where black models are imagined as single mothers and honoured for their commitment to raising and loving their children.
In recent years, his work has been featured in i-D and Niijournal. In editorials, his work has been featured in Vogue Portugal 2019 July issue, Dazed Magazine, 'Carnival Couture' February issue, Billboard Magazine for his styling of Davido and Tiwa Savage and Daniel's, The Face Magazine, Vogue Italia January 2020 issue, ID MAGAZINE ITALY, Schick Magazine for the styling and creative direction of 'Out of dreams', New York Times for styling the Cover shoot with Beverly Naya, photographing Burna Boy and styling Tiwa Savage.
His works have been featured in multiple music videos like, Tiwa Savage's '49:99′, Davido's 'Sweet in the Middle', Sauti Sol's 'Suzanna', Ladi Poe's 'Know You', Wurld's 'Wayo', Wurld's Story, Burna Boy's Wonderful, Burna Boy ft Chris Martin Monsters you Made. He's also worked on 'Chaos and Creation', GTBANK Fashion Film Campaign 'Fashion is freedom', Eyimofe 'Berlinale Film Festival Berlin and Beyonce's 'Black is King'.
He also won Best New Director at Fashion film Festival Milan for his Fashion film 'UDARA and was featured in Black Vanguard Book and Exhibition Newyork alongside the best Black photographers around the world.
Taofeek Abijako, 23.
23-year-old, Nigerian-born Taofeek Abijako is a young designer recognized for his ability to express social and political commentary through the Lens of 'luxe-street' clothing. Through his New York-based company that focuses on art, fashion, furniture, and product design, named Head of State+, he earned a spot on the Forbes 30 Under 30 list. Head of State+ is sold internationally in major stores like United Arrows, Assembly and American Rag Cie. and in recent times, he has been focused on training and mentoring young people in the fashion industry.
His brand, Head-of-State+ first caught the eye of the fashion community weeks after its official launch in 2016, and according to The New York Times Style Magazine, Japanese luxury retailer United Arrows found his self-produced look book on Twitter and began stocking the brand shortly after. After which The New York Times Style Magazine labelled Head of State+ a 'brand to watch'.
In the last year, Taofeek has received press coverage with renowned magazines and websites like the New York Times, Teen Vogue and i-D Magazine.
The Future Awards Africa Prize for Acting
Chimezie Imo, 27.
Finding actors with the range to convincingly bring a variety of characters to life on screen has long been a headache in Nollywood. This is why when a once-in-a-generation talent is discovered, the entire industry takes some time to embrace the relentless work ethic they bring to new projects. Chimezie is such a talent.
In less than five years, he has featured in over twenty movies like 'Kasanova', 'Kasala', 'Castle and Castle' amongst others. His spectacular ability to transform and give himself entirely to a character has gained him over 14,000 followers across his social media platforms and allowed him expand his repertoire from screen to stage, earning praise for his fantastic delivery during several stage plays with performances that leaves his audience in awe.
A Nigerian actor and model, Chimezie Imo is just as comfortable working on small indie-projects as he is working with an ensemble cast on one of the continent's most beloved television series. Cutting his teeth with his role as 'Shina' in the MTV Shuga Naija series alongside some of Nigeria's most in-demand young actors, Imo proved to the crew and the audience that he had the emotional vulnerability to carry a layered character. This was the calling card he needed to land his first leading role in the critically acclaimed Nigerian movie, Nimbe, a demanding performance that required Imo to reach into great emotional depths to bring the character to life. It was career defining work and has given Chimezie Imo an enviable portfolio.
Ruby Akubueze, 23.
What does it say of your career as an actress if you win an Arpa Foundation for Film, Music and Art (AFFMA) award for best actress before you turn 21 and with only one role in your filmography? This is the question Ruby Akubueze is trying to answer as she works to dominate Nollywood and cement her place as part of the next generation of superstars to bring Nollywood to a global audience.
Since she got her big break starring in the popular MTV Shuga series, a show that has become a proving ground for emerging actors looking to elevate their craft, Ruby Akubueze has been working hard to transition from television to film. She has since featured in a lot of blockbuster movies including; 'Kasanova', 'What Happened on Third Street', 'Trampled' and 'The Trip' which have increased her reach beyond being a singer and a voice-over artist to an amazing actress to watch out for.
Tobi Bakre, 26.
Before Tobi Bakre was announced as a housemate on the Endemol owned Big Brother Naija reality T.V. show in 2018, he was already well versed in the ways of internet popularity and how it could be transitioned into a serious career. His elder brother Femi Bakre is the co-founder of Kraks TV, a platform that aggregated memes, comedy skits and other videos, pooling them together for a committed audience. Bakre's understanding of consumer habits and audience expectations helped his time at the Big Brother House and helped him reach the finals. He used his time at the Big Brother House as an extended audition, tackling the acting challenges with a commitment that belied his true intentions to pursue a career in front of the camera.
That insight has also helped him segue from reality tv star to bonafide actor, his acting talent and ability to deliver roles brought to the fore under the discerning guidance of some of the country's most exciting directors. Starting his acting career on Funke Akindele's Jenifa's Diary, Bakare soon moved to film, featuring in the 2019 blockbuster 'Sugar Rush' and Indie flick 'Fix Us'. He is also a recurring cast member on Ndani TV's 'Phases' and the Youtube drama 'Lara of Lagos'. Bakre is proof that backgrounds matter little when there is an abundance of talent and the commitment to see it through.
Jemima Osunde, 24.
Jemimah Osunde is a consumate multi-tasker, combining a career in medicine with a demanding career as a lead actress on MTV Shuga for several seasons. That commitment has paid off, with Osunde being the most in-demand young actress in Nollywood today and a leading lady who has been trusted to lead major block busters while juggling secondary careers as a model and a television presenter including a stint on the Ebony Life show Moments Z.
Jemimah Osunde began to demand attention after playing Leila in the popular MTV series Shuga. Since then, she's gone on to star in various blockbuster movies like; 'New Money', 'Delivery Boy', Genevieve Nnaji's 'Lionheart' amongst many others.
Ever since her big break, Jemima has continued to prove her extraordinary acting skills by delivering her roles seamlessly which in turn has captivated her viewers and increased her fans to over a 100 thousand across her social media platforms. In 2018, Jemima Osunde was nominated for Best Actress in a Leading Role at the 15th Africa Movie Academy Awards for her performance in 'The Delivery Boy' which was aired on Netflix earlier this year.
Jide-Kene Achufusi, 28.
To the uninitiated Jide-Kene Achufusi, better known as Swanky JKA, seemed to fall out of nowhere to land the most coveted film role in all of Nollywood in 2018, the lead in the Charles Okpaleke remake of Nollywood classic, Living In Bondage. But the reality is that Jide is a Nollywood veteran, starting his career nearly a decade before in bit roles before an opportunity to travel abroad had him put his film career on hold while he pursued other interests. A chance meeting with Okpaleke put him back on film and auditions that showed his range and his ability to embody the duality of Nnamdi Okeke, the titular character of the Living in Bondage sequel saw him reintroduced to Nollywood in grand style.
Born in Enugu with an education that saw him relocate to Ebonyi state and then to Imo state for his Secondary School education, Jide-kene was steeped in Igbo culture and had the context from which to draw nuance for his performance. Diplomas and degrees in film and business provided the technical knowledge he needed to seal off his career defining performance.
He is widely known for his brilliant and flawless performance as 'Nnamdi Okeke' in the blockbuster award-winning movie 'Living in Bondage' which was released in the year 2019 and his role as Neo in Trace TV's campus drama series 'Crazy, Lovely, Cool', a role that he played without fluttering—thereby gaining him loads of recognition, nominations and awards in the past year including Best Actor nomination and a Trailblazer award, at the Africa Magic Viewers' Choice Awards in 2020.
Bukunmi Oluwasina, 26.
Bukunmi Oluwasina is a 26-year-old Nigerian Actress, Movie Producer, Musician, Playwright, Song Writer, Director, Model and Brand Influencer. This Lagos-based graduate of Theatre Arts from the prestigious Obafemi Awolowo held the private screening of her self-produced and self-directed movie titled 'TRAFFIC' in Dubai. This film features top actors and musicians in Nigeria, like Tina Nba, Omowunmi Dada, Nino, Abayomi Alvin, Arole, Johnny Drille, Dremo, Bukunmi Oluwasina herself and many more. The yet-to-be-released movie is undoubtedly one of the most anticipated films in the country.
Bukunmi Oluwasina has also featured in various other high-profile movies including, CITASION by Kunle Afolayan, OBANKOBA by Okiki Afolayan, OLOWO ARO by Yemi Amodu, UNFORGIVEN By Tope Bakare, AYE By Murphy Afolabi amongst many others, winning recognition awards like Nigeria Achievers Awards, Top leading youths in Make Me Elegant Awards and several other nominations from other platforms.
Bukunmi Oluwasina is also an active philanthropist through her NGO called Bukunmi Oluwasina Foundation created specifically to cater financially to the feeding and other financial needs of the needy including the provision of money to support their businesses and fend for their family every month.
Tomiwa Tegbe, 28.
Tomiwa Tegbe is a multiple award-winning Nigerian Actor and commercial model who holds a BSc in Environmental Management and Toxicology from the Federal University of Agriculture Abeokuta(FUNAAB).
With over 280 episodes of screen-time, the Oyo state born actor has an on-screen career spanning ten years with T.V. and film credits which include MTV Shuga, 'My Siblings and I', 'Kasala', 'Kasanova', 'Training Day' and 'On The Real', amongst others.
He is a big movie buff and pop culture enthusiast who is passionate about telling original stories and creating memorable characters that resonate with the audience and reflect Nigerian realities in all of his performances.
His recent projects include 'Kasanova', 'Psycho', MTV Shuga Naija Season 4, Mnet's second season of 'My Siblings and I', MTV Shuga Alone Together, 'Training Day' and 'Inspector K'.
The Future Awards Africa Prize for Entrepreneurship
Akomolafe Henrich Bankole, 27.
2020 in particular has been a difficult year for our country's entrepreneurial spirit. The COVID19 pandemic compounded already existing economic challenges, closing borders and halting trade. This is why the success that Akomolafe Henrich Bankole, 27-year-old entrepreneur who describes himself as a self-starter, who is a master of multitasking with a serial entrepreneurial experience in Engineering and Real estate, construction, and Information Technology is so inspiring.
Introduced into the world of business by co-founding a company with his father, where he still serves on the board of directors to date, Akomolafe has branched out on his own, making his way as a serial entrepreneur and innovator. He started his career in the elevator industry in 2016 and has assumed the position of the managing director of Akotex Nigeria Limited; a company concerned with the delivery of Engineering services (Elevators and Escalators). In the last six months, Akotex has installed over 90 elevators across Nigeria; each is using a smart controller.
Akotex has moved from 7th to 3rd in the elevator business in Nigeria with 100% Nigerian workforce.
Ogechukwu Alexis Obah, 28.
The beauty industry in Nigeria has exploded in the last 10 years, spanning the scope from DIY boutique labels to global juggernauts serving several countries. Leading the charge in Nigeria is Ogechukwu Alexis Obah, who kicked off her business in 2014 and in 5 short years has grown her her skincare and cosmetics brand, Bodylikemilk into a true player in the beauty industry. She is one of the few Nigerian-owned beauty companies to expand into West Africa, with stockists and supply chains in more than four West African countries.
Her consumers, mostly women, are on a journey of exploration, enjoying new products and seeking out locally-made, artisanal, natural products in all consumer categories. Between 2019 – 2020, this Forbes under 30 entrepreneur expanded her customer base to many other countries. Today, her products are sold in Holland, Germany, South Africa, Kenya and Ghana.
As her contribution to National development, all ingredients for production are obtained in Nigeria. In the last year, she has sold to over 200 households across the country and trained seven young people in the science of cosmetology.
Fejiro Hanu Aigbodje, 24.
The fintech industry in Nigeria has become a true proving ground for young innovators with brilliant ideas and the wherewithal to make it happen. Free of the usual gatekeepers and bureaucracy, its pioneers have become younger and younger as new technology becomes more accessible. This probably explains just how 24 year old Fejiro Hanu Aigbodje was able to lead his company Patricia technologies limited as Chief Executive Officer and Founder, a company he has run since he founded it at 22 in 2017.
The idea behind Aigbodje's business is simple. Traditional currencies are restrictive, offer arbitrary value and are affected by government bureaucracy. Cryptocurrencies solve this problem by providing a standardized virtual currency that is independent of traditional banking and transfers seamlessly. Aigbode's Patricia allows Africans accept fast and seamless cryptocurrency payments from customers all around the world. The platform receives in Bitcoins and pays in local currencies which has made it easier for people to send and receive money.
Barely two years into the business, he has built the company into a multi-billion naira venture and a leader in its right in the industry with offices in Nigeria, Ghana, The United Kingdom and the USA.
Barbara Okereke, 28.
A graduate of Electrical Electronics Engineering with an MBA in Oil and Gas Management, Barbara never imagined herself in the cake business. After all, she was one of the more employable Nigerians with experience in a hotly contested industry. Still, after years of unsuccessful job-seeking, she decided it was time to expand her experiences, she learnt how to bake. In a bid to improve her skills, In 2015, she registered for cake-baking and decorating training at Fair Cake – a premier cake school in London. Learning under some of the best pastry chefs in the world and with a view to build a business that was on the cutting edge of creativity while remaining commercially viable, she decided to start Oven Secret, a culinary business.
Today Barbara Okereke has transformed that knowledge into a viable business that has seen her create for serving governors and help others out of unemployment the Founder and Managing Director of Oven Secret Limited. Her business, Oven Secret, grew by 93% in revenue between 2018 to 2020, earning her a spot on the Forbes Africa 30 under 30 list in 2019. She has received numerous testimonials from her clients across Nigeria, including the Governor of Rivers State. She also runs an artisan academy where she teaches cake design.
Adetola Nola, 28.
Adetola Nola is the founder of Veritasi Homes, a real estate company that provides marketing, advisory and developmental services across the entire real estate value chain in Nigeria. His expertise, knowledge and experience span sales, marketing, real estate investment, property finance, real estate advisory, management and leadership development.
Starting his career as a real estate sales consultant with Grenadine Homes, he recorded a plethora of successes in closing property deals. After facilitating projects for a few other real estate companies, he founded Veritasi with just one staff – his secretary. In less than two years of operation, the company has recorded over 2 billion Naira in revenue – a feat he attributes to the company's vision of solving the housing problems for middle-income earners in Nigeria.
Today, he has over 12,000 real estate consultants, 1300 Veritasi realtors and 18 full-time staff.
Having failed in business severally, he is passionate about helping other businesses succeed and has the vision to raise at least 200 successful African entrepreneurs who will, in turn, create employment by 2020 and is on track to achieve this through his Veritas realtors project.
Peniel Bello, 26.
There are many challenges that threaten the success and growth of media businesses in Nigeria, a lack of viable revenue models outside of traffic-based advertising, lack of press freedom, tetchy clients, the list goes on. Media, public relations and communications strategy has become the proving ground where young entrepreneurs prove their mettle and earn the respect of the industry. Peniel Bello, the General Manager of Media Panache Nigeria has most certainly earned her place as one of the more progressive leaders of the new media movement, a boutique label competing favorably with much larger, more established media brands.
Since taking over the reins of daily operations from her partner Timilehin Bello, Peniel has been focused on delivering tailored solutions to her premium clientele. During the pandemic, her team was involved in a number of crisis management situations, content creation campaigns, and a robust influencer engagement scheme that ensured their clients were deeply satisfied with the service rendered and their audience were engaged.
Since she assumed her role as general manager, she has transformed the daily operations of the organization and increased the annual revenue of the firm in the last year. She currently supervises a team of 15 people and manages over 4 current clients.
Tracy Batta, 28.
The fitness craze in Nigeria has transitioned from questionable fad to enduring lifestyle, with thousands of Nigerians defying the Coronavirus lockdowns and risking life and health to exercise. Many brands have risen up to meet the secondary needs that are necessitated by an active lifestyle, including activewear, exercise equipment and healthy alternatives like Tracy Batta's Smoothie Express.
Tracy Batta is the Cofounder of Smoothie Express, an ultra-modern healthy food and beverage company founded in 2014 and focused on helping individuals achieve their health and fitness goals by providing healthy alternatives to Nigeria's starch and carbohydrates-based diets. The company has since launched three modern stores in Victoria Island, Lekki and Yaba, all in Lagos all serving the fitness conscious Gen-Z and millennial customers. With a growth plan to become an international brand with locations across Africa by 2025, they received a loan from a women empowerment program sponsored by Access Bank to expand the business further last year.
She is also the founder of Business Nuggets, an online organization set to give valuable business guidance, motivation, inspiration and information to small businesses in Nigeria.
Tracy holds an MSc. degree in Communications Systems Engineering from Swansea University, the U.K. and a BSc. Degree in Physics with Electronics from the Bells University of Technology, Nigeria.
The Future Awards Africa Prize for Music
Divine 'Rema' Ikubor, 21.
If you asked a room full of music enthusiasts where Nigeria's next mega popstar would come from, no one would have mentioned Edo state. The sleepy city best known for its thriving culture and its phenomenal bronze artists, is woefully underrepresented in the Nigerian music industry's top echelons. Divine 'Rema' Ikubor has come to change that. Discovered by D'Prince and signed to Jonzing World, an imprint of Don Jazzy's Mavin Records, Rema has quickly proven himself a chameleonic singer, songwriter and rapper able to bring a sense of wonder to multiple genres while holding the collective interest of the world.
Rema's debut E.P. will be remembered for defining a new era for Nigerian pop. He was one of the first Nigerian rappers to create music specifically for a Gen-Z audience, tailoring his earlier work to visually appeal to younger teenagers while meeting the strict expectations of their parents. His adventurous writing is delivered with a distinct voice and a rare mix of afrobeat rhythms and western sub-genres. He has released two more projects since; 'Rema Freestyle' – a collection of trap-influenced Instagram freestyles hewn into radio-ready singles and October's 'Bad Commando' which ushered him onto the global stage with a delicate balance of the styles he's become known for.
His ascent to global recognition was defined by landmarks such as the Barack Obama summer playlist and multiple hits including 'Iron Man', 'Dumebi', 'Lady' and 'Bad Commando'. He continues to evolve, experimenting with his sound and appearance and winning fandoms as he goes along.
Adedamola 'Fireboy' Ade folahan, 24.
Career artists are a rare phenomenon in Nigeria. The industry's lack of structure and the outrageous demands of labels has turned far too many artists into crabs in a bucket, all chasing the latest trends and disparaging any perceived competition. But every now and then, a career artist emerges with a distinct point of view and the necessary tools to bring that POV to a waiting and discerning audience. Adedamola 'Fireboy' Ade Fahan is such an artist.
Signed to YBNL Nation, a label renowned for its ability to nurture artists who have no interest in chasing trends or pursuing mainstream music, Fireboy changed the game for younger recording artists with his debut studio album in 2019 that included tracks like – Laughter, Tears, Goosebumps. The album amassed over 6 million streams on Spotify three days after its release and was met with massive positive reviews which earned him a spot as one of the rising stars to watch out for. All of this was even more impressive considering Fireboy didn't have any features on the album, a common gimmick used to raise the profiles of emerging artists and help them sell more records.
Between 2019 and 2020, he went on to release singles from his debut album that further proved to his fans and listeners that deepened his craft and showed he was unafraid to experiment with new ideas. In 2020, he released his second studio album which he called 'Apollo'. Apollo was also widely accepted, and according to the multi-talented artiste, 'Apollo' album is about evolution, growth, love, pain, and gratitude to God for blessings'.
Florence 'Cuppy' Otedola, 27.
For Florence 'Cuppy' Otedola, the journey to respectability and critical acclaim has been a long one. As the child of a Nigerian billionaire, Otedola's career as a musician and disc jockey has been met with vehement skepticism at every turn. Still, Cuppy is not one to be deterred by anyone once she sets her mind on something, taking the skepticism that followed her early music projects as fuel to improve and prove everyone wrong.
Working tirelessly to improve her craft, collaborating with some of the country's most exciting producers and musicians and educating herself by hiring a vocal coach and leveraging her interest in sports and her social media standing to build herself an audience. All her tireless work paid off. First she was invited by tech giant Apple to host their 'Africa Now Radio' on Apple Music Beats. On July 16, 2020, she released her seventh single Jollof on the Jet featuring Rema and Rayvanny which was listed on Billboard charts and had over 14 million streams.
She released her debut album, Original Copy, in August 2020. The album has gotten positive reviews, and all 12 songs have appeared on Apple music's top 100 Nigeria playlist and converted the many skeptics who thought she would never be anything other than Otedola's daughter.
Zainab 'Lady Donli' Donli, 24.
In 2019, Donli released her debut album, Enjoy Your Life, following three EP's and a living room tour that revolutionized touring for independent artists in Nigeria. The album was a deviation from everything fans had come to expect from the Cleveland born, Abuja raised singer. Gone were introspective musings over alternative beats, and in their place a triumphant celebration of feminism, self-empowerment through a Nigerian lens, shored up by sampling that celebrated golden age Nigerian pop music. It was an introduction to quite like no other.
Since then, singles like Cash and Suffer Suffer have become subversive anthems for young Nigerian women and Donli's live performances are packed to the brim with fans who hang on her every word. Donli is vocal about her beliefs, parting with her manager when he was accused of sexual assault and lending her platform and voice towards causes that further the well being and potential of women. The 'minister of enjoyment' as she is called, is committed to bringing Nigerian musical history to a contemporary audience and is unapologetic about her sound.
Donli is part of Nigeria's alté music scene, which is known for blending sounds from multiple genres of music, including Afrobeats, R&B, and soul, and has worked with new-age music acts. Although she has has picked up musical influences from around the world, it's in Lagos that she met a community of like-minded young musicians, designers, videographers, and artists, all of them doing their own thing, all of them challenging Nigeria's music industry in the process.
Stanley 'Omah Lay' Didia, 23.
Going viral is quite the trick, it requires a perfect storm of several factors. But when it happens, the results are quite phenomenal, turning relative upstarts into household names on the strength of one single. Stanley Omah Didia – known professionally as Omah Lay, was born ready for his moment of virality. The singer, songwriter, record producer from Port Harcourt is part of the new wave of musical talent from the South-South who are making their impact felt on the Nigerian music industry. After years perfecting his sound, Omah Lay dropped his first official single, 'Bad Influence' which immediately went viral, announcing him as the next big talent in music.
He was prepared to ride off this wave, releasing a second single 'You' and then his debut EP on May 22. The E.P. became an instant commercial success becoming the most streamed Afrobeat album on Digital stores like Audiomack, Deezer and Apple Music and went on to earn him Apple Music Favorite New Artiste of The Month of June in Africa. Singles from the E.P. that went viral, primarily through airplay include; 'You', 'Bad Influence' and 'Lolo'. Six months later, Omah Lay's debut EP is still in heavy rotation, despite the limitations of COVID19 and the influx of dozens of equally talented emerging artists. Omah Lay has true longevity and a sound that cannot be denied.
Temilade 'Tems' Openiyi, 25.
It has been quite some time since a singular female artist commanded the collective attention of the Nigerian music industry quite like singer songwriter Tems. Ever since she released her first official single 'Mr Rebel', her throaty growl and confrontational sound has titillated audiences and kept her in the news, with everyone speculating about the scope of her talents and the dexterity of her song writing. However, it was her follow up single Try Me that really cemented her status as the next big independent artist since Asa. It became a hit and currently has over 2.8 million views on YouTube. In 2020, D.J. Edu chose her as one of 'ten artists to watch'. She was recruited in 2020 by American singer Khalid to join him and fellow Nigerian Davido on an Afrobeats remix of 'Know Your Worth'.
Born in Lagos in 1995 to a British father and Nigerian mother, Tems has mined her personal life and her social relationships as fodder for her deeply personal but universally accessible music. Interest from a music teacher led to her first piano lessons and practice sessions with her brother who played the Guitar. She attended Dowen College in Lekki and studied and graduated in economics in Johannesburg, all the while nursing a desire to return to music full-time.
In 2020, Tems finally released a debut EP For Broken Ears, that featured the critically acclaimed Damages.
Chike-Ezekpeazu 'CHIKE' Osebuka, 27.
If you needed any evidence that Chike-Ezekpeazu Osebuka would be a star, all you need to go is search for his audition video for the Voice Nigeria on Youtube. His cover of 'Roses' by James Arthur currently has 2.4 million, the highest number of views on a Nigerian music talent show audition. But the voice wasn't Chike's first time competing on a music show. A year before in 2016, Chike competed in the Project Fame West Africa music competition. But all you need is one shot to truly find your niche, and since his time on the show, Chike has grown exponentially as a musician, experimenting with a number of sounds before finally embracing his Igbo roots and releasing an Afro-pop album that incorporated many genre elements.
His debut album 'Boo of the Booless' has become one of the most streamed Nigerian albums of 2020, reaching number 1 on the iTunes charts on February 19, 2020. The album also garnered over 10 million streams within just two months of its release. Nine months later, Chike is still dominating the charts, and has consistently remained in the top 10 of the iTunes and Apple music charts. More recently, he also released 'If You No Love' featuring Mayorkun in October, which has garnered massive airplay across the country. Chike's story embodies the truest Nigerian fairytale, one where hard work and hustle pays off into a successful career defined by its longevity.
The Future Awards Africa Prize for Art
Chigozie Obi, 23.
Employing the use of vibrant colours and figures to portray emotions and stories is a cardinal feature of Chigozie Obi's work as a visual artist. The 23-year-old artist has been working out of Lagos and using her art to document her personal experiences with a focus on representing Africans and black people in the diaspora with a full spectrum of expression and in ways that honours their lived experiences. A graduate of the department of Creative Arts from the University of Lagos, Obi is part of a movement of female artists who are redefining what it means to be a woman in the arts space and how art can be employed as social commentary.
Her work has been featured in many group exhibitions including MoCada Museum's silent auction (2019), Collective Renditions, African Artists Foundation, Lagos (2019), the Rele Art Gallery, Lagos, The Studio Scout in Omenka Gallery, the First Ibadan Affordable Art Fair and the Rasheed Gbadamosi Eko Art Expo. She has also been honoured as the Arthouse Contemporary Artist of the Month for July 2018. In 2020, she released 'Hands and Minds' documentary, which highlights her process of creating art that spotlights the struggles of people with Albinism. She is unapologetic about her pride in documentary African narratives and seeks to bring these stories to a global audience.
Obayomi Anthony Ayodele, 26.
He was a participant of the LagosPhoto/Canon Storytelling workshop. He won the first edition of the LAGOS PHOTO NATIONAL GEOGRAPHIC PORTFOLIO REVIEW PRIZE, (2017) "I create images to tell and document stories."
Obayomi Anthony Ayodele began taking photographs during his time at the University of Lagos. He was inspired in part by the horrible living conditions within the university hostels and sought to find a way to get this information out to the world in a way that unobstrusive yet authentic. Photography was the medium that lent itself to the moment and began Obayomi's career as a visual artist. An opportunity to showcase his visual art as part of an initiative organized by the African Arts Foundation and Canon Africa as part of its annual Lagos Photo Festival celebrations led to Ayodele winning the Lagos Photo National Geographic Portfolio Review Prize in 2017 for his photos documenting hostel life and introduced him officially to the art world.
Since then Obayomi Anthony Ayodele has improved his craft as a Visual artist, exploring lens based arts and storytelling techniques and combining the use of art and technology in non-traditional, immersive and experimental media.
Obayomi's work is mostly in the form of documentaries and nonfiction stories, created by a need to educate himself and offer alternative perspectives, by presenting information about people, society and culture in ways that help speak to social justice, balance out stereotypes and question traditional opinions to foster tolerance among different people and communities.
In January 2020, he was awarded the Visual Art Prize awarded by the Taurus Foundation for Arts and Sciences.
Yadichinma Ukoha-Kalu, 25.
Yadichinma Ukoha-Kalu studies lines and forms to question the world and navigate the experience of discovery. An experimental artist, her varied mediums include digital media, film, painting, photography and sculpture. Her work is in constant evolution as the theme of change inspires her.
As a full-time artist living and working in Lagos, Yadichinma's currently focused on delving into the processes of documentation and research with an intent to use learned and invented tools to create and build archives within a Nigerian context. Ukoha-Kalu was chosen as part of the first set of cohorts for the Rele Gallery Young Contemporaries workshop and consequential art exhibition during her Gouache stage. Since then, Ukoha-Kalu has been busy creating work that challenges the boundaries of visual art and affirms her place as an artistic savant.
In 2019, creative director Bubu Ogisi and multimedia artist Yadichinma Ukoha-Kalu worked together for the first time, engaging with the idea of 'Play as Creation' in a bid to enlighten an international audience on the history and heritage of local pattern-making techniques through experimentation.
Ukoha-Kalu has participated in a exchange residency facilitated by experimental space and gallery, 16 by 16 in South Africa, invited to join a residency in Dubai, shown solo exhibitions at Waffles N Cream and the Big 60, joined a residency in Dubai that ushered in her current experimentations with plastic and laser cutting as a visual art form.
Ayogu Kingsley, 26.
In January 2020, Kingsley Ayogu Ifeanyichukwu was chosen as one of the six cohorts to participate in the Rele Gallery Young Contemporaries boot camp and exhibition. Informally regarded as the definitive incubator for promising young artists, Ayogu's inclusion in the 2020 exhibition was a cotillion of sorts, introducing him to the art world. And not a moment too soon, because the artist has the skill level of a master and a carefully defined point of view that separates his hyper-realistic art from the wave of hyperrealism that has swept over the Nigerian visual arts community. With a degree from the Nnamdi Azikiwe University in Fine Arts and a short stint in the civil service, Ayogu draws from these experiences to inform the subject matter in his art.
Born in Enugu, the eastern part of Nigeria, Ayogu developed an interest in painting and art from a very young age; this interest led him to study painting and graphics from Enugu State College of Education (Technical). In an interview with BBC Igbo, he revealed that he started painting as a child before developing an interest in hyperrealism and parlaying that interest into a thriving visual arts career.
He became one of the Top 25 Artistes in Nigeria at the age of 23, and in January 2020, his work was showcased at the Rele Art gallery.
Tonia Nneji, 27.
In October 2020, Tonia Nneji opened her solo exhibition at the Rele Arts Gallery. Titled 'YOU MAY ENTER', the visual artist invites to explore the growth that has occurred in her craft and the perspectives she explores in this new body of work which incorporates her signature Ankara prints with characters in repose. As one ofth foremost contemporary visual artists working in Nigeria today, Nneji's solo exhibitions are an event in and of themselves and continue to push the boundaries of what is possible for female artists.
An alumnus of the Rele Gallery Young Contemporaries initiative, Nneji's work has become globally recognized, especially for her innovation in graffiti work and her attempts at reclaiming public spaces through art. In recognition of her talents,Tonia Nneji was one of six talents invited to take part in the Art Dubai Residents program, which will no longer exhibit physically due to the coronavirus pandemic. Nneji focuses on reaching out to vulnerable women through her works. "I want women to feel safe and not alone – like there's hope".
Her aim is for viewers 'to see her work and know there's someone out there experiencing the same thing and tell them that they can get help if they need it.' She is represented by The Rele Art Gallery.
Ayanfe Olarinde, 24.
Ayanfe Olarinde is not an artist to be hedged in by mediums. She elevates her craft via several mediums, including ink, paint, wire, discarded objects and allows herself the freedom to express ideas through scribbling, doodling, sculpture work, paintings, digital art, upcycling, mixed media collages and photography. The focus of all this experimentation is to properly evocate the experiences that have defined her journey into adulthood. All of this exploration has helped her find a niche in a largely exclusionary industry that judges emerging artists by herculean standards.
Her work has brought her recognition and accolates. In 2018, she was shortlisted for the GTBank Days of Dorcas photography contest, an honour that was quickly followed in 2019 by a nomination for the nominated for the Future Awards Prize for Arts. She would go on to win the First Bank Magic 125 Creative Contest in the same year. Her exhibition work includes a group show at the 25th Bamako Encounters in Mali and the group show organized by the Goethe Institut Nigeria and the Nlele Institute. Other group shows she has been involved include SMO contemporary, AAF Lagos, Retro Africa, Rele Gallery, Moshen Gallery and the Thought Pyramid.
She is currently the director and curator of UnEarthical, a creative enterprise that explores fashion and fine art photography. Earlier this year, Ayanfe was listed amongst the 100 Most Inspiring Women in Nigeria.
Fawaz Oyedeji, 23.
For a 23 year old photographer, Fawaz Oyedeji is incredibly lettered. He was the recipient of the BDC Darryl Chappell Grant in 2020, the same year he was nominated for the 6×6 Talent Program by the World Press Photo foundation. He is a recipient of the Prince Claus/Open Society Foundations
Mobility Grant and was shortlisted for the Alexia Foundation Student Grant in the US and was the second runner up in the Fashola Photo Contest in 2019, all prestigious prizes, with global applications and the power to elevate the career of any visual artist.
With so many commendations and a career that includes group exhibitions at the Kigali Centre for Photography/VII Exhibition, Rwanda, the Canon Alumni Exhibition and the Live Market Exhibitions in Nigeria, Fawaz redefines what it means to be documentary and fine art photographer for a new generation of Gen-Z creators. His work extends beyond photography into history and cartography, all employed to execute his mission to examine socio-cultural & environmental practices, particularly those related to local communities in Africa.
He is also a recipient of the 2019 Eugene Smith Student Grant & serves as a member of Diversify Photo. Fawaz holds a degree in Mass Communication from Yaba College of Technology.
The Future Awards Africa Prize for Activism
Hassana Umoru Maina, 22.
Hassana Maina is an advocate against sexual violence and also the coordinator for North Normal rally for the Arewa Me Too movement in the North East domesticating the VAPP(Violence again persons prohibited) act. Her work is pivotal to challenging the status quo for women in Borno State where she is from and helping emancipate women and girls from archaic practices that violate their human rights and deny them opportunities.
Maina started the movement in Maiduguri, Borno state, and she and her team members took the advocacy to schools and educated students on Gender-Based Violence. She has been involved with connecting victims of sexual violence with adequate resources for rehabilitation through partner NGO's and is currently on a journey to see the end of GBV. Maina's energy and resilience in this movement are second to none as she has lent her voice to conversations surrounding these issues on various radio and television stations.
The impact of Maina's work is tangible and she has become a beacon of hope to everyone from students to people in her local community. Maina is also a writer and a graduate of law from Ahmadu Bello University, Zaria. She has used her voice using several platforms like radio and television stations.
Hajara Kabeer Abdulfatah, 24.
Hajara Kabeer Abdulfatah holds B.Eng in Petroleum and Gas Engineering with First Class Honours, she is currently in transition into the sustainable energy space with interest in intersectional uses of energy, environmental sustainability and low carbon future. These areas of interest are of especial value to Nigeria that has suffered consecutive man-made disasters that have decimated the aquatic wildlife in its Niger Delta region and predisposed far too many to health crises.
Beyond her academic background and industrial experience with multinational companies, Hajara is a 'Girl in STEM' activist whose passion for encouraging, inspiring and couching young girls to pursue and develop career interest knows no bound.
Her advocacy on #GiveGirlsRoleModels, a movement aimed at normalizing female role models, earned her the first ever Girl-in-STEM leadership award in recognition for her outstanding advocacy on the girl child by Society for Petroleum Engineers and Women Development Program (WDP). Hajara is driven by a burning desire to encourage and inspire young girls and women to break through the ceiling of possibility and make a positive and lasting impact.
Hajara currently volunteers actively for Society of Petroleum Engineers (SPE), she is also an active and productive member of Student Energy (SE), Energy Institute (EI), Nigerian Society of Engineers (NSE) and the Global Thinkers Forum (GTF). In the last year, Hajara has reached over 100 girls in her community and is currently replicating this in other regions.
Wilson Atumeyi, 27.
After 60 years of independence, Nigeria still struggles with providing the most basic of amenities for its impoverished citizens. The resource gap is so great that young activists like Wilson Atumeyi have had to step into the fray and advocate on behalf of these citizens, providing privately funded alternatives or lobbying government to do its job.
The work Wilson Atumeyi does in addressing water challenges through his non-profit, Brains Ichaji Foundation is invaluable. With over ten states and 1293 people impacted, Brains Ichaji Foundation founded is addressing water challenges in Nigeria and advocating for government accountability for regions in desperate need of social intervention . Wilson embarked on a campaign that made the minister of the state of the FCT order the drilling of a borehole in a community that had no access to water supply.
Water and sanitation challenges are Wilson's area of specialities, even with limited resources, he managed to convince over 1000 youth in Nigeria to join the fight for adequate water supply for people in rural communities. In the last year, through WaterWide he ensured that people in rural communities have access to safe water and sanitation, he trained people in local communities on budget tracking and providing oversight on project implementation in their communities.
He has also been tracking government spending in rural communities- as those funds are the easiest to steal- working with volunteers to ensure that these monies get to the target communities. He also ensured that seven communities got functioning boreholes during the COVID-19 pandemic.
Aghogho Odibo, 28.
With worryingly high birth rates across Nigeria, compounded by insufficient and rapidly deteriorating social amenities, many international organizations have postulated that Nigeria is procreating its way into a humanitarian crisis. So far these dark predictions have been kept at bay by the work of activists like Aghogho Odibo who have chosen to stand in the gap for the country's most vulnerable population, disadvantaged children and young adults, with a special focus on Delta, her home state and Abuja. She is creating educational and creative platforms that empower disadvantaged and orphaned children to reach their full potential.
In the last couple of months, Aghogho and her team have worked tirelessly to ensure that there is access to quality education for youth in various communities and has reached over seven communities. She also works with audibly impaired students by partnering with organizations to train them and ensure they have the tools to navigate a world that makes no provision for disabled persons.
During the pandemic, Aghogho was still out on the streets, nurturing and encouraging the less privileged to keep dreaming, believing and acting. She created a visually appealing book which she distributes to communities to help young students learn quickly. Now most of her students are able to read and write more clearly as a result of the book.
Richard Akuson, 27.
When Richard Akuson started his role as the fashion editor at Nigeria's largest online media publication, BellaNaija, no one could have predicted this would be the first step in a whirlwind of events that would land him on the Forbes 30 under 30 list and position him as a global advocate for disadvantaged minorities in Nigeria.
Akuson is the founder of 'A Nasty Boy' magazine and a two-time Abryanz Style & Fashion Award Best Fashion Writer nominee. In 2017, Akuson became the target of hate crimes which accelerated his flight to the United States as a political refugee. Undeterred, Akuson continues to advocate for human rights from his new base in the United states, restarting his magazine, A Nasty Boy and providing support to Nigerians living in the country.
In 2019, he was named one of Forbes Africa's 30 Under 30 change-makers for challenging rigid notions of diversity in Nigeria. He also authored a tell-all essay for CNN in April 2019, detailing the circumstances that led him to flee Nigeria for safety in America and in July 2019, he wrote another article for The New York Times' 'Sunday Review.' He has been published in the Times' web front page and appeared in a similarly prominent position in print.
Recently, Richard started a campaign demanding 'looters' of Africa's treasured artefacts to be returned, and that the British take responsibility for lives that were lost when the arts were taken and has openly advocated for the #EndSARS movement through articles in the Washington Post.
Kelechukwu Nwachukwu Lucky, 26.
Though officially outlawed by the Nigerian constitution, Nigeria continues to struggle to change archaic views about many aspects of its culture, including human rights, women's reproductive rights, labour and migration and governance. Kelechukwu Nwachukwu has committed his time and expertise to speeding up this process through his work in intersectional advocacy.
Through his work as founder/programme manager at Youth Network Against Female Genital Mutilation (YNAFGM), he has managed to convince residents of over 500 communities in Nigeria to publicly renounce female genital mutilation practices, showing them how progressive sexual health practices have a trickle effect on employment and the overall standard of living.YNAFGM also secured funding from Amplify Change to fight FGM as well as advance the sexual and reproductive health and rights of adolescent girls.
In his capacity as programme manager, he has lent his expertise to cases of sexual and reproductive health and rights, labour & migration, arts, governance in Africa. In January 2019, he founded the Youth Network for Community and Sustainable Development – a movement catalyzing social change by engaging young people and amplifying their voices through targeted advocacy to key players, capacity building and development, communications and media engagements, partnerships and program implementation.
Adenike Titilope Oladosu, 26.
After two decades of denialism from world powers, climate change is finally being given the attention it deserves. However, few of the conversations around climate change and eco-activism discuss the disproportionate effects of pollutions and unethical practices on Africa which has the smallest carbon footprint of all the continents. It has taken the work of ecofeminists like Adenike Tolulope Oladosu to not only highlight this disparity but also advocate for the demographic that is most affected by climate change, disadvantaged African women.
Adenike advocate through her initiative, Fridays For Future movement in Nigeria. She specializes in equality, security and peacebuilding across Africa, especially in the Lake Chad region. In commemoration of the UK Black History Month, Greenpeace U.K. recognized her as one of the three young black activists in Africa working to combat climate change. In December 2019, Adenike attended the COP25 gathering in Spain as a Nigerian youth delegate where she gave an address' about climate change in Africa and how it affects lives.
Also in 2019, Oladosu was the recipient of the Ambassador of Conscience Award from Amnesty International Nigeria, and she spoke to world leaders at the U.N. youth climate summit. She also attended the 2019 Climate change conference in Madrid along with Greta Thunberg where she drew the attention of world leaders towards the Nigerian and African climate movements.
The Future Awards Africa Prize for Journalism
Aisha Salaudeen, 26.
It is easy to underestimate just how much impact Aisha Salaudeen has had in the last four years she has been working as a journalist out of Lagos. For most of 2017 and 2018, Salaudeen's work with Stears Business became the gold standard for immersive journalism in Nigeria, inspiring dozens of young women to take on journalistic endeavours and to amplify the voices and challenges of women in fields where their impact has been erased. She has worked in full time and freelance journalism, using images, videos, and text to report and investigate diverse human-interest stories in Africa. Her work has appeared in the Financial Times, Al Jazeera English, Okay Africa, and TRT World where she covered thorny issues like alleged police brutality, sexual abuse and surviving Boko-Haram.
With a reputation and platform to boot, Salaudeen currently works as a multimedia journalist and feature producer at the CNN Africa Bureau in Lagos, Nigeria writing/editing features on China-Africa relations, business, culture, and technology in Africa.
With years of experience in storytelling, she works with the teams producing sponsored CNN specials such as African Voices Changemakers, Inside Africa, and Marketplace Africa to create digital stories after the episodes air on T.V. Her clarity of voice, commitment to telling a multi-perspective story and network of contacts have made her a valuable resource wherever she works and brought a more empathic perspective with a focus on Gen-Z sensibilities to CNN.
Aneta Felix, 24.
It is not enough for journalists in this day and age to report the news, they must also be able to communicate the news in mediums that matter to their target audiences and engage in consistent dialogue to ensure their message is not misconstrued. At 27, Aneta Felix can easily be referred to as a veteran in the field, with experience in broadcast journalism, and content production. interest in reporting on human and gender rights, insecurity, corruption, and development amongst others.
She has over five years of progressive experience working across online, radio, and T.V. platforms, reporting the Boko Haram insurgency in Adamawa state, covering elections in Lagos, and interviewing CEOs of multi-million dollar tech startups.
She has worked in full time and freelance journalism, using images, videos, and text to report and investigate diverse human-interest stories in Africa. Her work has appeared in the Financial Times, Al Jazeera English, Okay Africa, and TRT World where she covered thorny issues like alleged police brutality, sexual abuse and surviving Boko-Haram.
Out of over a thousand entries from Africa, Aneta Felix emerged as a finalist for the West Africa Media Excellence Award (WAMECA) and the inaugural APO African Women in Media Award.
She currently produces and presents the business documentary program – Startups, on TV360 Nigeria, where she is also a senior reporter and anchor of flagship program, News News.
Adejumo Kabir, 23.
Nigeria is in desperate need of investigative journalists. The industry as it currently is structured provides no protection for journalists who seek to uncover truths about corruption, violence and malpractice. With the exception of a handful of headstrong veterans, young journalists at the start of their careers are actively discouraged to take up the challenge. Adejumo Kabir has no such doubts.
He has spent the last year exposing malpractices in almost every sector in governance, health, politics and the economy with real world consequences. His report on illegal mining activities in Osun led to the arrest of more than 20 Chinese illegal miners in the state. After his report on how the Nigerian Army abandoned families of slain soldiers, authorities reached out to the neglected families and began to process their pay.
Beyond training young journalists on the best practices in investigative journalism, he risked his life by journeying by sea from Nigeria to the Benin Republic to expose how security operatives breached border closure during the pandemic and explained why Nigeria continues to have an increase in the number of coronavirus cases. Adejumo Kabir has put the truth above political affiliations, the concerns of his superiors and his own life. What could be more admirable than that?
Abdulbaqi Aliyu Jari, 29.
Arewa has a long and storied history of embracing the news as a platform for education and a tool for political awareness. This is evident in the popularity of radio in the region and the fervor with which news stories are consumed and dissected. Hausa language journalists are revered as important cogs in the wheel of knowledge and governance and encouraged to find and share the news in a culture where indigenous languages are being erased or dismissed as signs of illiteracy. Abdulbaqi Aliyu Jari, popularly known as Bahaushe, a Nigerian Journalist, writer, Media Activist and Activist Poet finds purpose in filling this gap.
He is the founder of International Hausa Day (#RanarHausa), a day set aside to celebrate the Hausa language. He is also the founder of IHAME, the new symbol for writing the Hausa language. He is the former head of Hausa Naij News Media and former deputy editor of Nishadi TV. Across his platforms, Jari promotes the spread of the Hausa language as a contemporary language, opening it up to other cultures and celebrating its storied history.
Since the outbreak of the COVID 19 pandemic in Nigeria, Abdulbaki Jari produces a 60-second video enlightening people in the Hausa language every day, a valuable resource for many itinerant workers of Northern origins living outside of the North. So far, he has done more than 60 videos with about a total of 10 million views. Various state governments in Northern Nigeria and Hausa speaking countries across west Africa watch his videos to educate their people about coronavirus.
Aanu Adeoye, 27.
Aanu Adeoye's stint as editor of Tech Cabal is memorable for many reasons, most especially the groundbreaking work he did in helping to demystify the growing Nigerian technology industry to mainstream audiences. The lessons learned from his time working at a new generation media platform focused on results has served him well as he moved into freelancing for global publications on matters of the global economy, interregional politics, health and technology.
Aanu Adeoye's precedes him, with bylines in The Guardian, Foreign Policy, CNN and Al-Jazeera. His distinct point of view, unwavering commitment to bringing a post millennial perspective to the global issues that affect Africa and his desire for excellence led to him being considered and eventually earning a spot as a Konrad Adenauer Stiftung Media Africa Scholar at Wits Journalism in Johannesburg. He continues to innovate in his career and brings his point of view as a journalist and commentator for the South African weekly publication Mail &Guardian and The Continent, the first African WhatsApp newspaper.
Solomon Elusoji, 26.
Solomon Elusoji is a strong proponent of the belief that history should not only be reported, but also documented for posterity. Unlike other journalists simply content to find and report the news, Elusoji has painstakingly documented his travels as a journalist through China in a series of literary projects that extend beyond basic journalism and provide in-depth context to Chinese-Nigerian relations. His work is informed by his travels across Nigeria, reporting on a diversity of social issues, including oil spillage in Ogoni, malnutrition in Kano and insecurity in the NorthEast.
Between 2018 and 2019, he was nominated for a 10-month China-Africa fellowship, paid for by the Chinese government. Based in Beijing, he travelled across China and reported on the country's character, international ambitions and the nature of its engagement with Africa. At the end of his fellowship, he took a six-month hiatus to put his 'China' experiences and observations in a book, while co-founding a literary-cum-political digital magazine – The Question Marker.
In November 2019, he published 'Travelling With Big Brother: A Reporter's Junket Across China'. Currently, he works with Channels Television as a digital journalist, focusing on how best to tell African stories in an ever-changing world.
Victoria Sanusi, 27.
Only the most prescient of young journalists saw the massive potential that the podcasting genre held and the opportunities it would bring to the journalism industry and Victoria Sanusi, writer, editor, podcaster, producer, and social media content creative is one of such savants. A veteran of new media journalism, Sanusi has worked with every platform, mastered most of the tools of the trade and continues to shape public conversations around youth culture through her superior content ideas. She was previously the digital culture editor at The iPaper/iNews based in London where she wrote about talking points online and commissioned commentary pieces from diverse writers, giving a good number of prominent young journalists working today their first breaks into the industry.
Today, she continues to reach thousands through a weekly podcast she produces, edits and co-hosts on mental health and pop culture. Since launching in October 2018, the podcast has surpassed over a million listens and has featured on Michaela Coel's I May Destroy You and named one of Elle magazines best podcasts of 2020. In 2019, she won podcast of the year at the Brown Sugar Awards, a reckoning of sorts for the work she has put into the genre and the young black podcasters she has inspired with her work ethic and innovative ideas.
The Future Awards Africa Prize for Health and Wellness
Elizabeth Ita, 25.
Unlike generations before them, wellness has become a significant part of the lives of millennials and Gen-Z. A focus on mental health and self-care has upended many long held beliefs about interpersonal beliefs, work practices and government policy. Spearheading this change in ideology are young women like Elizabeth Ita, who believe that anyone can make a difference if they have the will to do so. Her passion for creativity and constant learning is accompanied by the thrill of seeing things come to life either through her craft or her zeal for volunteering.
Elizabeth Ita is the Founder of Stilt Ng (@stilt.ng) – a thriving youth-based and youth-led peer-to-peer support group working out of Calabar, Nigeria to help raise awareness of mental health issues in Nigeria, a pressing issue in Nigeria thanks to an oppressive government, stifling poverty and a global pandemic that has interfered with social bonds across the country.
In the past year, she has been creating safe spaces for those affected by anxiety and depression, especially during the lockdown and Pandemic, to talk to others who truly understand. She has also worked to dispel stigma around mental health challenges and encourage young people to seek help through appropriate channels. Through education, peer support and advocacy, she helps erase the stigma of mental illness, and effect positive change and increase public awareness of mental health issues in Nigeria.
Nanahawau Kolawole, 24.
The wellness craze has evolved beyond the occasional quick fix into a comprehensive lifestyle that incorporates exercise, diet and healthy living practices. This shift in lifestyle has created a thriving industry of independent wellness and fitness vendors like Nanahawau Kolawole, who provide bespoke routines for upwardly mobile millennials looking for professional partners in their wellness and fitness journeys. Kolawole works as a fitness and wellness consultant and founded her business Klay's Fitness and Wellness to help her better serve her customer base. She also has a personal reason for helping others as she started her own wellness journey in 2017, determined to take better care of her body. After losing 30 kg through discipline and determination, she decided to commit her time and knowledge towards helping others discover the freedom she found through fitness.
There is no better calling card for a wellness instructor than results. Between 2019 and 2020, Kolawole has helped over 1000 individuals between the ages of 18-60 achieve their body weight goals. She has also partnered with different brands across Africa to push wellness for people through specialized plans, sponsored events and remote meal plans.
Victor Ugo
Most young professionals in the mental health find themselves drawn there by their own personal experiences and the lack of adequate care for people who struggle with mental health challenges. Our repressive culture, negligent attitude towards mental health and willingness to overlook destructive behaviour have created a thriving ground for violence and trauma. This was one of the motivations for Victor Ugo, an internationally recognized Mental Health Advocate, Policy & Advocacy Expert, Mental Health Service User Consultant and Mental Health Expert for Young people, especially in Africa to enter the field.
As the Founder and CEO of the Mentally Aware Nigeria Initiative (MANI), he has achieved a significant record of nominations, awards and recognition from world-renowned bodies, nationally and internationally. He excels at developing relationships with professionals in the field of Mental Health and critical organizations in the service user support, science and research sectors. He is also a motivational team leader with experience in managing multi-functional and multicultural teams to ensure all programme goals are met.
Through Mentally Aware, the foundation he co-founded, Ugo has championed practical mental health initiatives, and helped set up of the most active crisis support platform in Nigeria, working to provide counselling for individuals dealing with trauma of all kinds. Mentally Aware was the forefront of the recent #ENDSARS protests, providing counselling for protesters and care packages for victims and their families.
Amanda Iheme, 27,
In a country with a healthcare delivery system that is already severely negligent, people who struggle with mental health issues and other invisible disease suffer twice as much indignity. They must prove they are indeed in need of care and they must prove that their challenges are just as valid and urgent as persons why visible, physical illnesses.
Amanda Iheme understands this, as a healthcare professional and as person who lives with mental health challenges.
Her time studying for a degree in psychotherapy in Ghana was an education in the outsize impact environment can have on mental health and how the creation and sustenance of safe spaces could create a vastly different outcome for many who feel ostracized because of their mental health challenges and decided to do something about it.
She runs a practice known as NDIDI Health, which creates opportunities for individuals within and outside Nigeria to attain affordable therapy. She offers phone sessions to international clients, discounts to university students and free group therapy. Iheme's services are vital to breaking down the stigma around accessing therapy for mental health issues through group therapy and online therapy, removing physical and psychological barriers to accessing care. Iheme also promotes art as therapy and routinely collaborates with other organizations like the Revolving Art Incubator to organize events aimed at destigmatizing mental health challenges.
Chioma Nwakanma, 28.
Technology has infilitrated all aspects of modern living, but its impact is felt most acutely in the medical industry. From pacemakers to ultrasound imaging, technology improves the quality of our lives and inches us closer to perfect health. Dr Chioma Nwakanma is more focused on a more practical application of technology's marvels, connecting disadvantaged and disconnected communities to health education, health advocacy and access to primary and secondary healthcare, as part of proactive efforts to reduce mortality and morbidity rates from preventable diseases. She is especially committed to Cancer prevention and sexual reproductive health.
Popularly known as #DrZobo on social media, She is pioneering the use of social media as a telemedicine tool and inspiring a new generation of healthcare practitioners to fight the stigma around disclosing illness and seeking out healthcare through tech-enabled platforms via her social media handles HealthHubAfrica. Nwakanma prioritizes fitness and weight loss for pregnant and lactating mothers. Other areas of interest for her are topics ranging from maintaining health blood pressure levels, skincare, eye infection and steps to take to get help. She has held over 10 IG webinars to teach people about myths, facts and the truth about health and wellness.
Her influence and impact can be seen in the significant turn around in the health-seeking behaviour of over 10 million Nigerians who she reaches weekly via social media. Dr Chioma through her SHEET (School Health Education and Empowerment Tour) has empowered over 10,000 Nigerian secondary school students with free health education and first aid tips in 4 states across Nigeria.
In the last year, her foundation SMILEWithMe held outreaches targeted at poorly represented communities, offering free health education, and affordable screening for 2000 women and vaccination services for 500 women and girls against HPV. She is also the physician Team lead for COVID19 Support NG. She has also recently worked with the United Nations, NCDC and Federal Ministry of Health in a health advocacy project for COVID19 in Nigeria."
Chioma Nwosu, 26.
For Chioma Nwosu, having personal experience helped contextualize the reality of people living mental health and impressed on her the urgency of using her privilege and access to clear the path for others who need but are unable to access healthcare tailored specifically for people living with mental health challenges. She does this through her work as a mental health and positive psychology advocate, speaker and founder of Olamma Cares Foundation; an NGO focused on promoting the social acceptance of mental illness by building public awareness and empathy while providing support for people living with mental illness.
Through her NGO, she has facilitated a interventions for 4000 people, reaching them through open events, outreaches and intervention programs. She is very passionate about life, family and making an impact. Nwosu's work focuses not just on sufferers, but seeks to change the perceptions of care givers for these sufferers, as well as the environments in which these people must live and work, she believes a more tolerant culture will significantly influence health seeking behaviour in people living with mental health challenges.
In the wake of the COVID-19 pandemic, Nwosu took her crusade online, launching an online help desk for mental health care. Chioma writes her weekly column on Businessday newspaper titled Mind Body and Soul, and she is also a TEDx Speaker.
Daniel D. Faleti, 28.
The point of specialization determines the future of every medical student. In a country like Nigeria where survival rather than passion informs many career decisions, Daniel D. Faleti's decision to major as a psychiatric-mental health nurse in a climate where all mental illness is generalized as schizophrenia suggests a deep-seated passion for an underserved community. Faleti currently works as a psychiatric-mental health nurse at University of Ilorin Teaching Hospital (UITH), Ilorin and is the current secretary, Association of Psychiatric Nurses of Nigeria, Kwara State Chapter. He has leveraged this position to impact individuals, families and groups under the initiative – Mental Health Drive Initiative, by promoting the right to mental health.
Faleti also uses his personal platform 'Heart Matters' to attend to offer advice from a mental health perspectives via webinars. Three webinars have been organised so far in the year – March, June and September respectively, inviting resource persons in the field of mental health to speak on trending mental health issues.
With the support of his team, over 200 people have been educated on various issues surrounding mental wellness, ranging from mentally healthy lifestyles and ensuring parity between mental health and physical health; mental illness, ranging from having an understanding and dealing with stigmatization. He also provides counselling and referral services to those who suffer from Post-Traumatic Stress Disorder as a result of rape and are struggling to recover.
The Future Awards Africa Prize for Disruption (STEM)
Adegoke Olubusi, 27; Tito Ovia,27; Dimeji Sofowora, 28 – Co-Founders of Helium Health.
This isn't Goke, Tito and Dimeji's first time being honoured as nominees for the Future Awards Africa, but this time they return older, wiser and with the backing of a VC funds for their ideas to democratize the process of accessing healthcare by digitizing health records across the continent.
Their startup Helium Health is a smart, robust and intuitive electronic medical records and hospital management system designed for the African market. The platform accesses the medical facility's needs and peculiarities first to fit the software to their standard operating procedures and then customizes it to meet the unique, requested requirements of the facility within 24 hours. It includes creating customized hospital forms and processes that fit the facility's day to day operations.
Their product is a cloud-based/offline electronic medical records/hospital management solution (EMR/HMIS) that is simple, robust, easy-to-adopt, highly customizable and built around the peculiarities of the African market. It's accessible on any device, runs offline, syncs to the cloud and requires minimal or no data to operate. It is by far the most frictionless and instant way for healthcare facilities, regardless of their size or attributes, to go-digital.
Yanmo Omorogbe 26,  – Bamboo.
The uncertainties of the Nigerian currency has created increasing anxiety among a generation of millennials who are crossing into adulthood and the tech savvy Gen-Z who have felt the pressure to succeed their entire lives. No longer trusting traditional banking institutions, these demographics are looking to global markets to invest their earnings and secure their futures. Yanmo Omoregbe's Bamboo has become their most trusted bridge to the promises of financial security offered by a global financial market.
Omoregbe's business, Bamboo allows people to buy and sell foreign-based securities from their phone. Before the invention of this app, the U.S. stock market was closed to Nigerians with an interest in trading directly in US stocks. They were able to pry it open and let Nigerians into the largest investment opportunity on earth. Omoregbe has big backers too. His startup was chosen for incubation by global venture capitalist fund Ycombinator, trust Bamboo has rewarded by convincing 26,000 users to join and begin trading on the app. With plans to expand across the country and help even more young people trust global trading while bringing much needed forex into the country's economy, Omoregbe is ensuring his app resonates offline with as much excitmenet This platform will revolutionize how Nigerians think about money and drive an investment culture just like Piggybank did with savings.
Boluwaji Alepaye, 22.
In 2019, the Federal Road Safety Corps recorded that an average of 12 people die every day in Nigeria from road accidents, an unconscionable number that is worsened by the poor response times of the Nigerian emergency response teams and the backward nature of the country's law enforcement agencies. These numbers are abysmal and tally up to nearly 5000 deaths each year, many of which are avoidable. Dissatisfied with the pace of government agencies in solving this problem, Boluwaji Alepaye has taken matters into his own hands and is applying his experience in engineering and solutions technology to innovate a cost effective solution to improve accident response times.
Alepaye's IOT is a device which detects accidents in vehicles and contacts emergency responders and contacts, ensuring that accidents are promptly identified and first responders can quickly attend to the injured and increase the possibility of recovery. Alepaye's IOT device has formulated to compensate for the technological challenges affecting the Nigerian healthcare system through collaborations and deep tech. His innovative work and working prototype led to a grant from Orange Corners Nigeria.
This device is creating an emergency response culture that preserves the lives of Africans now and in the future and educating the next generations.
WALTER ISOKO 23 NIGERIA – Flux Technology Africa.
Bridging the technology gap between Africa and the rest of the developed world has been a major concern for the Nigerian government and private sector in the last decade. Initiatives including loans from the Bank of Industry, waivers for technology-based players to operate favourably in the market and regulation of policies as it affects technology. This enabling environment allowed Walter Isoko's Flux Technology Africa, established in the 2015/2016 fiscal year, to contribute its quota to bridging the tech/digital divide between Africa and the developed world and offering cost effective solutions to technology-based problems on the continent.
The great bounds that Walter Isoko has crossed with Flux Africa's achievement set it above its peers and competitors in the field. So far, the organization has trained over 4000 youths and children from the under-served areas in West Africa. They have partnered with various NGOs to teach youth and kids about digital literacy and providing access to laptops, tablets and other tools that ease access to the internet and improve digital literacy. They aim to train over 1 million in Africa by 2025.
The company has also handled major IT projects for major blue-chip firms and global brands with a capital base of over $100 million. They have an array of clients and partners both past and present via partnerships and Mergers such as KaiOS, Adidas and Tecno Mobile. Walter was named a 25 under 25 ambassador by the SME100 Awards.
David Oluwatobiloba Adeyemi, 23.
Solving the dual problem of ethically recycling organic waste and providing ecologically safe home problem has been David Oluwatobiloba Adeyemi's pet project for the last few years. The Founder and Innovation Lead of Ecogenic Solutions- a startup social enterprise that recycles food wastes into safe, eco-friendly domestic cleaning solutions has worked tireless to educate local communities producing large amounts of organic waste to consider recycling by creating a system that eases the process and rewards them for their engagement. By scaling this model across communities, Adeyemi has been able to provide over 200 indirect jobs to fruit and vegetable sellers in his vicinity and also recycle over 730KG of fruit and vegetable waste. His work is revolutionary because it provides a practical application for most of the theoretical science and policy around climate change and sustainability development.
In January 2020, he was among 100 other Nigerian youth leaders who were honoured with the Royal African Leadership Awards for distinguishing themselves in their chosen careers and have impacted the society by the Ooni of Ife, Oba Adeyeye Ogunwusi, Ojaja II. David Adeyemi is currently a Brand Support Executive for British American Tobacco on Next Generation & New Categories. He hopes to transform the FMCG space by incorporating Sustainability, Design and Reduced Risk Products because he firmly believes 'the smallest of things can change the world in the most significant ways.
ADENIYI OMOTAYO, 29.
Few people could grow a blog into a multinational business with international clientele and a reputation for excellent service and innovation in a field as niche as sports betting. But then again, not everyone is Adeniyi Omotayo, founder and MD/CEO of the Betensured Group, a sports prediction service founded in Lagos and exported across the continent.
Omotayo started Betensured as a free betting tips blog, expanding it into a paid service in November 2015 and formally incorporating in Nigeria on 29 March 2016 – one year after it was founded. Since its inception, Betensured has worked with over 20 different bookmakers from different countries and generates its revenue mainly from user subscriptions and advertising collaborations with these bookmakers. The company's current clientele includes top bookmakers 1xbet, Betking, UBC 365, Betway, Bet9ja and Betin Kenya. By streamlining the betting process, Betensured has helped improve the customer service journey for betting enthusiasts across the continent.
Betensured has since expanded operations to East Africa and currently has physical offices in Nigeria, Kenya, and Uganda with over one million registered users and at least 35,000 yearly subscribers. Betensured operates in eight different languages (English, French, Spanish, Portuguese, Italian, German, Russian and Chinese) and has subscribers from at least 70 countries.
Fred Oyetayo, 27 – CEO of Fresible
Few young Nigerians have had the distinct honour of sharing their knowledge and personal experience on a TED stage. Even fewer have had the distinct honour of being acknowledged for their work on the Forbes 3o under 30 list as well as the 25 under 25 honorees list of the SME100 foundation. Such is the outsize impact of Chief Executive Officer of Fresible, Fred Oyetayo. Oyetayo has leveraged 9 years of experience in the burgeoning technology industry to transform lives through his creative digital innovation agency, specializing in using technology to accelerate the growth of companies and help them find profitability.
A branding guru with legal training and proficiency Digital Marketing, Websites/Software Development and Branding, Oyetayo's full service technology suite, mobile application development offerings and other multi-platform solutions connects individuals and brands to their target audience using online marketing and paid advertisement. They also have a proven track record of creating influential and instantly recognizable brands for their large clientele base.
The crown jewel of the Fresible brand is Fresible music, a Nigerian focused music streaming platform that Oyetayo hopes will compete favourably with other global media streaming giants like Apple, Spotify and Tidal while prioritizing profitability and access for Nigerian musicians and content creators.
The Future Awards Africa Prize for Lawyers
Abdullateef Olasubomi Abdul, 26.
As the National Representative for Nigeria at the International Bar Association (IBA) Abdullateef Olasubomi Abdul wield a significant amount of power over the careers of young Nigerian lawyers seeking to make the most of their careers. Following his recent appointment as Chair of the Regional Development Subcommittee of the IBA's International Sales Committee for an added two-year term (January 1, 2019, to December 31 2020), he was appointed on March 5, 2019, as the National Representative for Nigeria by the International Bar Association (IBA).
As the liaison between the IBA, the Nigerian Bar Association and young lawyers, Abdullateef's responsibilities include fostering links as the Chair of the Regional Development Subcommittee and keeping the International Sales Committee apprised of developments in the subcommittee's area, recruiting IBA members to assist in the subcommittee's works, and assisting with any relevant sessions of the International Sales Committee.
He juggles this with his work as the co-founder of Qmarker.com, a online literary magazine focused on documenting stories and perspectives from the continent, a full-time associate position in Ikeyi Shittu & Co – a full-service Nigerian law firm and duties as an Associate Fellow of the Society for Advanced Legal Studies (SALS), London.
He was recently named as the 3rd most influential young Nigerian in Law & Governance.
Caleb Adebayo, 27.
When most young people begin to pursue a career in law, they do so with the desire to eventually work in litigation, helping to shift public perception and create legal precedents through court room battles. But Caleb Adebayo chose a different path for his legal career, thinking beyond individual battles in service of individuals for a long term, difficult to win mandate on behalf of the earth itself. Adebayo is the founder and project manager at Earthplus, an environmental non-profit organization, delivering sustainable environmental solutions across Africa and forcing governments and public institutions to understand the seriousness of climate change and its adverse effects on the continent and take action.
Caleb's core interests are in gas to power, renewable energy solutions and sustainable energy policy. He is also the coordinator of the Hands & Bridges mentorship programme for Nigerian Law School students and curator of The Breakfast Table, a business meeting designed to help young people grow their career and network.
Working at Templars, he served on the Energy & Projects and Finance teams, advising on transactions and structuring deals at the intersection of Energy, Environmental Law and Finance. He played a vital role in advising the lenders on the $1 billion project financing of an upstream oil and gas asset which adopted an innovative co-borrower forward sale structure.
He is a Fellow at the following programs: Barack Obama Young African Leaders Initiative (YALI), Regional Leadership Center (RLC), Climate Tracker and he doubles as a mentor at the US Carrington Youth Fellowship (CYFI).
Damilola Wright, 27.
Brilliance and conscientiousness are Damilola Wright's calling card. Combining business savvy, an extensive grasp of legal precedents and a ruthless pursuit of a favourable ruling on behalf of his clients has distinguished his work at Banwo & Ighodalo and put him on many to-watch lists in the legal industry. After excelling with excellent academic credentials from the University of Lagos (LL.B) and a tenure working on some of the more challenging legal projects in the country, Wright took some time off to pursue a Master's degree at Harvard Law School (LL.M), a tenure he aced with flying colours. Wright has a demonstrated history of advising on a host of commercial, syndicated lending, project finance, and mergers & acquisitions transactions across various sectors including Real Estate, Telecommunications, Power, Oil & Gas, Fintech, and Agriculture.
His work ethic has seen him trusted to advise clients on corporate and project finance transactions and his expertise with syndicated lending, loan restructuring and refinancing transactions has saved clients millions in revenue and helped them navigate the ever evolving terrain of doing business in Nigeria, and have seen him collaborate on important mergers and acquisitions and fintech transactions. Clients commended him as 'one of the smartest young associates in the industry' who is 'able to review facility documents and address queries on an urgent basis' in the International Financial Law Review (2019 Edition).
Georgette Monnou, 27.
Finding challenging work is a primary concern of young Nigerian lawyers entering into an already saturated job market. The only way to best the competition is to exhibit a level of excellence that leaves others in the dust and gains the attention of the country's most competitive firms. Georgette Monnou's excellence has always spoken for her and continues to as she is honoured as a nominee for this year's The Future Awards Africa.
A polyglot with fluency in multiple languages, an excellent grasp of legal history and an eye for a legal loophole, Georgette puts her talents to use as an Associate of Olaniwun Ajayi's Power and Infrastructure Practice, currently advising clients on a wide range of infrastructure projects. With previous experience in the Firm's Finance & Capital Markets Practice, her experience also spans advising on diverse, complex finance matters including equity financing, local and international debt financing, derivatives and structured finance transactions. Owing to her fluency in French, she routinely advises the Firm's french and francophone clients.
Her other in-depth experience includes advising members of the creative arts sector on their rights, contractual needs and potential areas of expansion in the Entertainment Industry with her commercial knowledge stemming from having gained experience working in radio, film and television.
Oluwaseun Ayansola, 26.
Finding the time to create a full functional online career resource center while working full-time as an asssociate in a law firm would drain even the most dedicated young professional, but it barely phases Oluwaseun Ayansola. Ayansola's passion for helping young professionals navigate the minefield of career opportunities that exist in the Nigerian job market inspired him to start Commercially Aware, a platform that has grown from its modest beginnings to serve thousands of Nigerian job seekers looking for advice and perspectives that reflect the challenges of the job market as they exist today.
Targeted at students and professionals at the start of their careers, Commercially Aware's insightful explorations of market news, data and analysis helps its users understand the vagaries of the market and teach students how to thrive in these conditions via daily newsletters, weekly wrap ups of major market transactions, a comprehensive Youtube channel and access to journals and other social media platforms. The platform also offers community through its commercial awareness society that helps students and young professionals network while expanding on the information gleaned from the site.
When Oluwaseun isn't organizing Open Days at the offices of Commercially Aware sponsors and partners, he works in the banking and finance section of his firm.
Efemena Iluezi-Ogbaudu, 25.
Efemena, a proud graduate of the University of Lagos is an Associate in Strachan Partners – a leading commercial law firm-, a member of the Firm's Dispute Resolution Practice Group and an integral part of its commercial litigation and arbitration practice.
He has represented local and foreign clientele in several commercial disputes both before Courts and arbitral tribunals including pioneering novel positions of the law, i.e. ensuring service of court processes on social media platforms for easy access, to mention a few. Both legal innovations now exist for the benefit of the public and the justice system as a whole.
Efemena's peerless ability has seen him gain significant recognition across the continent, the most recent being his being a Finalist for the 2020 Africa Legal Awards Most Promising Newcomer (Private Practice). He is also the youngest awardee of the Lagos Court of Arbitration – Personality of the Month.
On governance and policy, he was heavily involved in the Lagos Backlog Elimination Programme, playing a pivotal role in training staff of the Lagos State Judiciary, the Lagos State Ministry of Justice and representatives of private law firms on the newly issued Civil Procedure Rules and Practice Directions. His interest in this regard is epitomized in his role as Interim Coordinator/Secretary of Justice Reform Project (JRP), a not-for-profit founded by 20 of Nigeria's foremost senior advocates to reform the justice sector holistically.
Adekunle Charles Olaniyi, 27.
An aspect of law that is underplayed in favour of the more glamorous, audience facing litigation is peer review. Years of meticulous peer review documentation and interpretation of legal cases and its precedents on existing laws is the very backbone of the legal profession and the men and women and its researchers and scholars who commit their time and research to advancing the discipline are its hidden muscle. Appreciating their contributions to the advancement of law is why Adekunle Charles Olaniyi is honoured with a nomination for this year's The Future Awards Africa. An alumnus of the University of Ilorin who returned to the university to mentor the next generation of legal luminaries, Olaniyi has published 5 research papers between 2013 and 2018.
Charles is an avid researcher and an energetic leader whose brilliance has been acknowledged by a string of academic scholarships. He combines speed with efficiency in delivering on Client's instructions and exceeding expectations. He is passionate about Corporate & Commercial Transactions, Alternative Dispute Resolution, Clinical Legal Education, Litigation and Access to Justice. Charles does research in Civil Law, Criminal Law and Public Law. He was the chair of the legal aid during his time at University of Ilorin.
The Future Awards Africa Prize for Beauty
Omolola Sidahome
Omolola is the owner and artist behind 'SOO Pro', a cosmetic line launched in 2019, popularly accepted and approved internationally especially for their glow products, lip gloss product like the new 'Lip Luster', the 2019-launched set of eyeshadows and the 2020-launched 'Soo Braided', a hair braiding division of the company.
She started out as a makeup artist and became popular for her flawless skin works. Propelled by her curiosity for makeup, hunger for meaning and passion for teaching, she started out her business as a YouTube self-taught makeup influencer, evolving into a fast-growing multifaceted brand driven by growth and recognized for delivering excellence consistently locally and internationally. Overseeing the business with ten employees and some interns, she has worked with over 1000 loyal clients; created nine unique products sold in over ten countries since inception.
Between 2019 and 2020, she has successfully trained over 2000 students; these training sessions include gele, makeup production, among others. Over the years, she moved on to running two studios whilst organizing training in different Nigerian states, and international masterclasses in the USA and U.K.
Bisola Omoregha, 26.
Launching your own specially formulated beauty product is the height of the beauty industry, and a milestone every makeup artist seeks to achieve. The road to this milestone is often steep and requires makeup artists to not only build a reputation for their craft but also an audience that converts sufficiently to convince beauty brands into invest in the economic expense of launching a branded product. For Bisola Omoregha to achieve this feat at just 26 when even more established makeup artists take a decade or more in the industry to command this kind of attention is impressive to say the least.
Bisola, popularly known as Bregha is known for her talent has proven herself as a versatile makeup artist, her work covering the spectrum from simple to the most sophisticated of looks. She has also shown a comprehensive understanding of the adjacent skin-care industry and how both feed into each other. From 2019 – 2020, Bregha worked as a lead makeup artist at the Persianas managed Inglot Beauty, consolidating its position in the country as one of the foremost international beauty brands in not the world. Thanks to her business savvy and undeniable creativity, she was able to boost her returning clientele reaching over 570 women in the last one year.
She recently launched a skin product with OmariCODE called 'Hydrate' which has been widely accepted, signalling what might become a mutually fulfilling partnership.
Ronald Mmeka, 27.
Due to his growing influence and reach within the industry, Ronald Mmeka, known with his working name 'RonaldThe7th has become the makeup artist of choice for brides across the country look for a talented but professional vendor for their big day. He has worked with notable brands and earned several awards and endorsements for his ingenuity and uniqueness. Providing services to wider clientele ranging from International Brides and Artists, Supermodels, Celebrities, High Profile Socialites and First Ladies and Has gone from Content Creation, Working on Advertising Campaigns, to Hosting Various Masterclasses all over the country, To working With Brands Like Clinique, Blot Beauty Cosmetics; Zaron Cosmetics, Make Up Amsterdam, Elsas Pro, Twok London.
Ronald is renowned for his deft hand his eye for subtle clean makeup which leaves his clients feeling refreshingly beautiful yet wholly recognizable. His forte is the Bridal Makeup Artistry where he has carved a niche and aptly tagged "The Bride Best Friend" distinctively so due to his impeccable and timeless makeup on brides.
He continues to give back to the society through charity works that include; Walk for Cancer, Makeup that includes; Walk for Cancer, Makeup for Cancer Survivors, Free Makeup classes for young people through youth empowerment program, collaborations and community services.
In 2019, Style Rave listed Ronaldthe7th as one of the makeup artists to look out for in the new decade.
Eronmosele' Eron Shaddy' Ozah , 24.
Eronmosele Ozah, best known by his brand name Eronx-Shaddy, set out to distinguish himself from the teeming ranks of celebrity makeup artists working out of Nigeria. He went for the big one, contesting to be entered into the Guinness Book of World Records by creating the record for the Longest Makeup Marathon embarked on by a single individual in 2020. Surprising everyone and reasserting the superiority of the Nigerian beauty industry as the most ambitious on the continent, he won his wager and currently holding that title.
But Ozah doesn't stop at makeup, his interest in beauty extends into skincare and sfx make up, both varying and often competing ends of the same creative spectrum. He is the only P.R. for Mollycosmetics Singapore in Africa and the creator of "the zipper girl", that created a massive buzz on social media in 2019. He has also had the opportunity to work with important celebrities thanks to his postively terrifying work in special effects make up. He has worked in the past year with; zfancy's Wizkid prank, Sydney talker's lil Bk skit, yaaga app advert for Richard Nnadi CEO eveafterdark, fashion shoot for both Burna Boy's album, SFX makeup for oluwadolarz. He is constantly evolving, using makeup to create his next big masterpieces.
Adefunke Adefule, 25.
It take passion to transitioned from the relative security of full-time employment as an account manager in telecommunications into entrepreneurship in the beauty industry, but when the call came, Adefunke Adefule knew there was no other trajectory for her. Originally drawn to hairstyling as a pastime, Adefule was inspired to take cosmetology classes with more than eight professional hairstylists from different parts of the world. They mentored her and facilitated her growth process as she has mastered the craft of creating custom hairlines for clients. Some of her notable clients in the last one year are; the First Lady of Lagos State Mrs Ibijoke Sanwo-Olu, Media Mogul Mo Abudu, Sharon Ooja, Michelle Dede, and many more.
In 2020, she officially launched her hair business brand 'HairbyAdefunkeee', providing women with the purest quality of human hair. The brand 'Adefunkeee' which started with one staff in 2019 now has over eight official staff catering to the needs of our increasing clientele and has trained over 20 students both at home and abroad. The progress she has made and the clientele she has amassed in such a short time speaks to the quality of the service she delivers and how well suited she is to conquer the beauty industry.
Doyinsola Afolabi, 26.
With a knack for reinventing herself, Doyinsola Afolabi went from top of her finance class at The Bells University of Technology where she studied Finance, straight into the beauty industry. Her experience in finance (including a 3 year tenure at Afrinvest) gave her the structure she needed to grow her business, but her creativity and passion for connecting a generation of women just embracing the freedom of taking pleasure in their personal appearances with the vast and wonderful world of cosmetic beauty. Not content to sell, Afolabi began to experiment with formulations to create her own beauty products.
It was a gamble that paid off. In the past year, Doyinsola also known as Didi, offers unique products to her large clientele from the eyebrow pencil to powders. She creates sophisticated looks for her customers. Her products are simple and easy to use. During the Pandemic, in ensuring she shares her knowledge to as many people as possible, she embarked on tutorials and training for aspiring makeup artists. She has a large client base all around the country, and her products are some of the top sold items on Jumia and other beauty platforms. Her brand has over the years been very supportive of makeup enthusiasts and makeup artists. She has collaborated with beauty professionals to impact over 5,000 women in the beauty industry.
Recently, her brand 'Beauty Line By Didi' organized a free brow masterclass, empowering over 2000 individuals and giving back in her own way.
Lydia Stanley Chukwudebelu, 26.
The beauty industry has evolved beyond makeup and skincare. Building personal brands through which beauty creators can grow audiences and influence buying habits has become a feature of the trade and social media savvy creators who incorporate technology into their content like Lydia Stanley Chukwudebelu are the ones leading the way for the industry.
Lydia Stanley has leveraged her standing as a beauty entrepreneur and beauty content creator to share her knowledge and expertise, encouraging over 700 students to reconsider beauty as a viable career through her online courses. She also educates young girls on the art of content creation, influencer marketing and makeup artistry using whatever tools they have at home. During the pandemic, her mission evolved into teaching the girls and empowering them to own their businesses, have a source of income and be financially independent.
In her career as a content creator and makeup artist, she has worked with the top Makeup Brands in Nigeria, and reputable brands abroad, her primary clientele includes Zaron cosmetics, Nuban Beauty, Hegai & Esther cosmetics, Huda Beauty Dubai, Zikel Cosmetics, Bolden cosmetics USA, to name a few.
She collaborated with a Nigerian makeup brand (Zikel Cosmetics) to produce an eyeshadow palette, the first of its kind in Nigeria.
The Future Awards Africa Prize for Leading Conversations
Daniel Orubo, 28.
'Horny Quiz guy' is a moniker that Daniel Orubo, senior editor at Zikoko doesn't seem to mind. It makes him relatable to the hundreds of young Nigerians with whom he has built a rapport over the years to tell him about their varied love lies, speak honestly about their sexual wants and emotional desires and denounce the 'ism's that prevent them from living their fullest, truest lives. Daniel Orubo documents everything he learns about sex and sexuality through a neutral, non-judgmental lens, providing a different kind of sex education to our timelines.
He highlights stories on sex through his column on Zikoko and navigating life in Nigeria's many diverse and uniquely different social bubbles and uses his platform to advocate for disadvantaged groups and champion human rights stories. Representation is of utmost importance to him and has always been since he was a child, and he decided to become a filmmaker to change that.
Not only has he been able to convert the hearts of some Nigerians, but he also continuously questions his own beliefs and learns from the lived experiences of people so different from him, a constant voice on topics that most shy away from and is not afraid to stand for equality, and inclusion.
Jolaoluwa Ayeye, 28 and Feyikemi Abudu, 27.
There is an authenticity to the chemistry between Jola Ayeye and Feyikemi Abudu that you cannot fake, one that comes from years of friendship, carefully worked through and preserved. They bring this sisterhood and joie de vivre to their podcast, I SAID WHAT I SAID, which has arguably become the most relevant social podcast in among millennial and Gen-z audiences in Nigeria today.
When Jola isn't recording, she is the head of development at Salt & Truth, a production startup. She is a writer and storyteller with a core interest in contemporary African culture, and its presentation on the global stage, alongside Feyikemi Abudu who is also a writer and storyteller.
Their pop culture podcast is all about the Lagos millennial experience, an honest, engrossing, funny and meaningful show. They explore ideas that are considered taboo, bring on guests who would not find audience everywhere else and offer the least biased points of view you will hear on Nigerian radio, on and offline. Most episodes make you laugh, others will make you cry, but regardless of the discussion, you can be confident that your attention will be held. The podcast presents a great way to decompress for the day, while also keeping up with life in Lagos.
Olutimehin Adegbeye, 29.
"Who belongs in a city?"
This is the question Olutimehin Adegbeye asked that catapulted her into stratospheric levels of fame in 2018, when she was invited to give a TED talk at the world stage. A Nigerian writer, speaker and advocate whose work exists at the intersection of social justice, human rights and inclusion, Timehin is not afraid to ask tough questions and answer them, no matter how inconvenient her answers are for her audience.
She works as a keynote speaker, moderator, facilitator and a staff writer for The Correspondent. She is known for her insightful analyses of issues related to Feminism, Gender, Sexualities and Urbanisation. She was awarded the 2019 Gerald Kraak Prize for her non-fiction piece 'Mothers and Men' which is now available in print in the Jacana Media anthology, 'The Heart of the Matter '. She has also been published online by a wide variety of journalistic, development and literary platforms. Her writing has also been translated into French, Japanese, Spanish, Norwegian and other languages, with selected publications incorporated into academic curricula in various countries.
But where she continually makes the most impact is on the social media platform Twitter, where her tweets about patriarchy, inclusive feminism, gender rights and capitalism force difficult by necessary conversations.
Vincent Desmond, 21.
At only 21, Vincent Desmond has acquired a reputation for his journalism, which explores inclusion, gender, identity, and culture, in pieces spanning print and digital publications. He is a queer Nigerian who is proud and out and standing in the gap for others who fear retribution for living as their most authentic selves. His work focuses on documenting queer histories, challenging discrimination against queers in the present and imagining less oppressive queer futures.
Vincent is a writer, editor and social media strategist specializing in covering fashion, contemporary, queer and pop culture. As a freelance journalist, he has written about issues that are dear to him for varying platforms and bringing these stories to a broader audience. At nineteen and with bylines in Dazed and Confused, AnOther Magazine, OkayAfrica, The Guardian Nigeria newspaper, leading British insights agency Canvas 8, YNaija, fashion and lifestyle platform StyleRave and many more, Desmond has established himself as a force worth reckoning with.
Ebele Molua, 25.
Ebele knew very little about women oppression until she joined Twitter and started following activists like Ozzy Etomi and Damilola Marcus. But that didn't stop her from consuming voraciously, online and offline, the extensive literature and information about the movement and radicalizing to its cause. Since then, she has used her platform as a soapbox, advocating for all kinds of women, calling out injustice where she sees it, challenging oppressive governments and showing kinship to women, oppressed and free.
In 2018 and 2019, she joined the Market March, organized by Damilola Marcus, calling for women not to be silent about gender injustice and another train to demand a stop to inappropriate touching by market traders. She was a leading voice in the charge to hold pop singer D'Banj accountable for his alleged rape against a private citizen and lends her voice to social causes that affect women of all ages and orientations. She is a leading figure in sparking conversations around transforming Nigeria into a country that treats women the same way it treats men and champions the fight against the patriarchal system in Nigeria.
Matthew 'Blaise' Nwozaku, 21.
Matthew is a content creator, a constant voice on social media advocating for human rights and a Peer Educator at the Foundation for Better Health and Human Rights. Being a student in our extremely misogynistic and exploitative educational institutions, specifically the University, afforded him the chance to witness institutional oppression on a level rarely seen outside.
Witnessing sex for grades, the oppression of women and the stringent policing of women's bodies impressed on him how strongly gender equality needs to be fought for. This moved him to action because he believes in the inherent freedom of persons to their bodies and physical expressions.
Blaise is vocal about his sexuality and uses his platforms to advocate against oppressive practices towards queer persons. He was a leader of the protests earlier in 2019 and 2020 asking for government intervention in the growing cases of rape and sexual assault against women. He was one of four Twitter users who started the viral #EndHomophobiainNigeria trend which was raised and amplified in response to the deliberate targeting and brutal murder of a queer Nigerian. He was also a prominent activist during the #EndSARS protests, using his platform to bring light to the specialized harassment and dehumanization queer people face at the hands of law enforcement in Nigeria, refusing to back down even when he was faced with homophobia in response.
Damilola Odufuwa, 30.
Damilola is known for not holding her tongue, especially when it comes to defending individual freedoms. She launched Wine and Whine with her co-founder, a support group for women and an intimate space where they can express themselves about the challenges they face in the Nigerian society, after spending years in the media industry as the editor-in-chief of Zikoko and then Konbini Nigeria.
She is very vocal about issues as relates to women's rights and sexuality, always leading conversations and trying to create a medium that addresses all issues that the media does not cover from wage inequality to professional career and more. In 2020, she and 9 other women formed the Feminist Coalition, a non-profit organization dedication to the advancement of feminist causes and equality for all. Feminist Co was instrumental to the success of the #EndSARS protests in 2020, raising funding for protests and crowdsourcing security, shelter, feeding, legal aid and transporation for protesters as they demanded their rights from the Nigerian government.
Odufuwa's vocal stance on human rights and her consistent use of her platforms to amplify the voice of the disadvantaged is the kind of mettle we all wish our heroes were made from.
The Future Awards Africa Prize for Community Action 2020
Ellen Chilemba, 22, Malawi.
An award-winning social activist and entrepreneur, Ellen Chilemba has through her organization – Tiwale Women's Centre – trained over 150 women as entrepreneurs, while also offering grants, loans, and lessons that would lead to female empowerment and independence.
In 2019, she organized micro-loans for 40 women in selected communities to start businesses, analyzed and launched a vocational skills training program which engaged about 250 women in fabric dye-printing, sewing, and fashion design. Her women's centre succeeded in gathering educators in Malawi to launch a day and night school for 500 women.
Since the start of the pandemic, Tiwale has shifted gears to produce protective face masks, made in a safe and distanced space by Tiwale community graduates from their sewing workshops. The masks are cleaned and then either donated to essential workers and offices in Malawi or sold to the public to help support their programmes. She has impacted over 2,800 people in Malawi with her mask distribution.
Samira Isah Modibbo, 29, Nigeria.
Samira has initiated and led her Haske Edu4Her Project, a program that has educated more than 8000 women and young girls in Rigasa community.
She has enrolled about 113 girls back to school on full scholarship, through engaging stakeholders, and has led a sensitization awareness campaign on the need to educate and empower women and girls.
The campaign reached out to over 20,000 people in villages. Samira coordinated the 23 local government areas of Kaduna State for the Kainuwa Gender Ambassadors project and facilitated the arrest of over 20 sexual abuse (rape) perpetrators with few convictions and other cases ongoing in the courts.
She is succeeding in breaking the cycle of Gender-Based Violence by educating women and teaching them innovative technology-based entrepreneurship, sourcing, and channeling financing to boost their businesses.
Derick Omari, 24, Ghana.
The Founder of Tech Era, a tech-based social enterprise, Derick has bridged the educational gaps for over 2500 persons living with disabilities in Ghana. Derick has been able to train and equip 15 college students in assistive technology innovation, 3D technology, Programming, and electronics to develop assistive technology prototypes that can be scaled and mass-produced.
In 2019, he launched 2 of such prototypes as products for the pilot phase which has reached more than 50 persons with disabilities. He also provided digital skill training to 10 children with autism, down syndrome, and cerebral palsy as an avenue to build communication skills of the individuals, increase their digital literacy, as well as unleash their talents and potential.
In the same year, he also launched the first version of IXAM – a virtual classroom digital platform for the blind that bridges educational gaps visually impaired students face.
He also organises Career Fair for persons with disabilities which connects individuals with disabilities to employees. He emphasizes how technology and digital skills can bridge several employment gaps that exist for persons with disabilities.
Seyi Aragbada, 26, Nigeria.
Seyi Aragbada's organization provides educational programs to improve health care and support to people living with epilepsy and their families in Nigeria, bridging the gap between people living with Epilepsy/Mental health disorders every month through an outreach program called Warriors Unite.
Seyi has aligned herself to facilitating the treatment of people living with epilepsy in Nigeria, and has cumulatively reached an estimate of about 347 warriors and impacted over 17,000 lives across various communities. The outreach has affected 764 families. Her initiative also provides mental and emotional support for people with epilepsy, mental health disorder, sexuality, and their caregivers, monthly.
Her recent projects, 'Have You Seen Epilepsy' and 'Warriors talk about it' portrayed the human condition of people with epilepsy in Nigeria and stigma attached to it.
Nelson Kwaje, 28, South Sudan.
Through #DefyHateNow, a community fact-checking organization based in South Sudan, Nelson has helped to initiate the #211CHECK collective – a digital community of made of youth working in various fields who collaborate to fight misinformation and raise awareness on Coronavirus prevention and protection. With this, he has reached many communities by providing useful tips.
Nelson also developed an initiative that promotes fact-checking, data journalism, and digital rights among journalists, bloggers, and content creators in Africa. His peacebuilding collaboration is being enabled to keep the conversations going, develop resources, and support local activist peace-oriented media-based activities.
Anyanwu Joseph, 23, Nigeria.
Having found out that majority of gutters in Port Harcourt are in a state of neglect, Anyanwu began a pursuit to ensure that each drainage channel is cleaned out at least once a week to maintain a smooth flow of erosion, reduce flooding and water logging in his community. Within the last year, his organisation, Clean Gutter Movement Mission managed to clean out over 73 gutters in 20 communities in Port Harcourt coupled with monthly follow-ups.
Trevor Oahile, 23, Botswana.
An Economics student at the University of Botswana, and a radio host of a sexual reproductive health rights program called 'Don't get it twisted', Trevor also organises the Condomize Campaign in rural Botswanan areas like Gantsi, Maun, Mochudi, Mahalapye, and Francistown which have little or no access to safe sex information and equipment.
So far, the Condomize Campaign has been able to distribute 1.6 million condoms across the country and sensitize communities about safe sex and the use of protection to combat against the spread of HIV/AIDS pandemic in Botswana.
Trevor also educates and provides young people with information and contraceptives of their choice as a way to fight against HIV, STIs, and unintended pregnancy, reaching over 200 young people every week over the past year.
Njeri Gateru, 31, Kenya.
Kenya Njeri Gateru is the founder and Executive Director of the National Gay and Lesbian Human Rights Commission in Kenya, an organization that provides legal aid and strategic litigation towards equality and protection of human rights in Kenya.
NGLHRC has successfully litigated for human rights organizations and ending forced anal examinations.
Njeri also curates the 'Because Womxn' forum – a radical space for dialogue and collective input on leadership, security, and wellness for women in Kenya. She has consulted and written papers on the realities of women in Kenya, the asylum regime and SOGIE, self-love and body autonomy, as well as further activism and the online space.
Thanks to her work, there is such an appreciation for the spectrum of LGBT people in Kenya.
David Avido, 24, Kenya.
In a bid to solve the unemployment situation in his community, David Avido trained 16 young mothers to sew between 2019 -2020. He also promotes the African culture by teaching children tie and dye skills and other forms of fabric decoration.
Given the current global pandemic, and subsequent loss of jobs in Kenya, he trained and worked with youths in sewing and distributing over 17,000 free masks within their communities and also giving out locally produced hygienic food packages to over a thousand families.
His drive has impacted communities in Kenya, providing job opportunities and encouraging women to start local businesses.
Ayodeji Alonge, 22, Nigeria.
Through his non-profit organization, Child Health Advocacy Initiative (CHAI), he partnered with Access Bank and the Aliko Dangote Foundation to champion the Malaria to Zero Initiative and fight against the malaria prevalence in the country.
Particularly, his efforts included distributing long lasting insecticide nets in under-served communities, donating seasonal malaria chemoprophylaxis (drugs to prevent malaria), industrial spraying of homes in rural communities, and donation of test kits to healthcare centres. His efforts reached over 550,00 individuals and families, and 25,000 pregnant women at risk from malaria.
Furthermore, to end the unfair treatment of young girls in Nigeria, he has covered over 600 communities reaching over 11,200 girls in Southwest Nigeria.
The Future Awards Africa Prize for Intrapreneurship
Benjamin Dada, 24.
As a business manager at Softcom, arguably one of the biggest independent firms in Nigeria, Benjamin Dada spends most of his day overseeing product development, marketing, and client engagement, all the inner workings that keep his company profitable while nurturing a young, vibrant workforce. Before joining Softcom, Dada cut his teeth at with a diverse list of reputable organizations, including technology startups like Andela and Stutern as well as well established media and technology giants like Sky U.K and Google. Gleaning information and work practices from all these institutions prepared him for the work at Softcom and primed him to excel.
Dada is always excited to share knowledge and is an in-demand tech commentator, writing articles for tech media platforms like Techcity and Techpoint. In the last year, he has been working on building software, products, and programs that connect people and businesses and he has achieved a lot in his short time at the company winning numerous awards. During his free time, he is also building his budding tech blog – benjamindada.com.
Derrick Ikenga, 24.
Solutions engineering is a vast discipline, but one that not many people see practical applications for in interior design. But Derrick Ikenga, the Chief Technology Officer of Taeillo sees this as a challenge that can be bested for the better of the Nigerian e-commerce industry as a whole. Ikenga who is a gifted software artist with skill in tech, has spent much of his career experimenting and building solutions for Social Commerce, D2C and AR-based products, most recently with Taeillo.
This year, Ikenga has been creating a modern channel of commerce in response to the transforming economic landscape and the technology gap which prevents many traditional Nigerian businesses who are still trapped with mortgages in brick and mortar stores to make the transition.
Ikenga through Taeillo is committed to crafting bespoke consumer experiences for traditional brands that acknowledge their limitations but provide ease in transitioning through the deployment of social media as an alternate commercial transaction channels. He crafts immersive and memorable, experiential campaigns that deliver the message of the value of his client brands without distractions, thereby leading to sales and value for his organization. He is continuously connecting digital objects with reality and has done so for many Nigerian brands by incorporating augmented reality and virtual reality to advertising campaigns and storefronts.
Terver Bendega, 26.
Trever is passionate about high growth sectors that foster inclusion, reduce unemployment and shorten income gaps across Africa.
As the Regional Marketing Manager for Bolt in Africa, she has helped modify how people hail rides from their smartphones and the method of payments used on the platform. Given the 2020 pandemic, she championed the importance of customer safety and ensured all drivers undergo a criminal background check and in-person training.
In the last year, she led Bolt's rebranding efforts (evolving the brand and all it's collateral from Taxify to Bolt) across the African region. Bolt launched in 15 new cities across Nigeria, 10 in South Africa, 7 in East Africa and two additional cities in Ghana. She also spearheaded the launch of the first-ever driver verification portal in Nigeria.
She established an initiative to help rape and sexual violence survivors in Nigeria access emergency escape rides, in partnership with three frontline NGO's. She also developed a program to provide free rides to expectant mothers in East Africa during the thick of the Coronavirus induced lockdown. Unveiled 'Bolt trip protection,' the most comprehensive insurance coverage available in the Nigerian ride-hailing space for both drivers and passengers.
Tega Edwin-Ajogun, 28.
With just seven years in the industry, in some circles marketing and communications strategist Tega Edwin-Ajogun would be considered a neophyte. But you only need to look at the massive body of work she has amassed and the achievements she has to her name to refute that assumption and accord her the respect and relevance that is due. But Edwin-Ajogun is not focused on public praise, rather she allows her work speak for her, delivering creative performance-based marketing campaigns that have a significant impact on her client's bottom-line and meeting clearly defined marketing objectives.
She was instrument to the growth of Pulse Nigeria (Ringier) as the premier storytelling firm in the country during her time as the Head of Agency Relations. She managed relationships between Pulse and other marketing agencies in the country and also helped bring in and managed the GIZ Nigeria account for Pulse.
Currently, she is a Partner/Director, Marketing Strategy & Planning at Qlick Digital Agency, where in the last year (2019-2020), has led the creation of successful data-driven digital campaigns. During the Pandemic, she worked with First Bank (First Monie), GIZ Nigeria, Simba TVS, Pearson Mitchell Property Consultant (A London based Real estate firm) in delivering tailored solutions.
Ejiro Esigbone, 27.
Consulting has a bad name, especially in developing countries in Nigeria where corruption and incompetence will frustrate even the most well-intentioned of plans. But young consulting professionals like Ejiro Esigbone, a Senior Associate with KPMG's Risk Consulting Practice in Lagos, Nigeria and a Certified Fraud Examiner (CFE) somehow manage to circumvent all the challenges in the industry and the misconceptions of a distrusting public to deliver excellence and challenges preconceived notions about the viability of professional intervention.
Esigbone has multidisciplinary investigative experience specializing in an assortment of forensic accounting, data analytics, computer forensics, and serving a wide range of both public and private clients. In the last year, he has been busy providing clients with fraud and compliance advisory services including anti-money laundering, countering the financing of terrorism, anti-bribery and corruption and fraud risk management services. Not even the pandemic has slowed him down or dampened his enthusiasm to help guide businesses looking to navigate the unforeseen complications that can arise from doing business in the country. He has given extensive assistance to clients in prevention, detection, and response to allegations of fraud, waste, abuse, and mismanagement.
He equally focuses on the white-collar space and utilizes available electronic data to expedite the investigative process and target key transactions and other evidence while minimizing disruption to the Client's regular business operations.
Derin Adebayo, 26.
With a journalistic background that includes tenures at TechCabal, Ynaija and Stears Business, Derin Adebayo understands the underbelly of big business and startup culture. It is that information that allows him make invaluable decisions of the viability of startups for the Endeavor team in Nigeria, an organization that supports entrepreneurs in emerging and under-served markets. He played a crucial role in getting Endeavor up and running in Nigeria and now works closely to provide support for several entrepreneurs. He was a vital part in facilitating Endeavors support in Flutterwave's recent funding round.
As one of a small team of five, Derin has been an essential part of helping Endeavor select companies; he is specifically responsible for the selection of Flutterwave, Carbon, FilmHouse & Daystar Power, accounts which he currently manages. He has been their point person for navigating Endeavors menu of services and has worked with them on core business issues relating to capital, talent and market expansion. Beyond his day to day role at Endeavor, Derin also writes about business, innovation & technology for his column with Stears Business. In his early career so far, whether through writing or the work he did at Co-Creation Hub, where he worked before Endeavor, Derin has always been a champion for entrepreneur-led economic growth in Nigeria.
Lehle Baldé, 28.
As a senior associate, Strategy Innovation and Partnerships at Business Day Media, West Africa's leading provider of business intelligence and information on diversified media platforms including online, mobile and print, Lehle Baldé has to be on the pulse of the African economy. She uses her platform and the access her position affords her to promote financial literacy and inclusion and works to ensure that her employers remain profitable while maintaining share of voice in financial services related media.
As the anchor of Financial Inclusion Today – a radio show program on Rhythm 93.7 powered by the Bill and Melinda Gates Foundation, Balde takes her knowledge to mass audiences, explaining how abstract economic policies trickle down to the common man and in what ways the proletariat can empower themselves financially. The show is the first of its kind in the world, started as an effort to foster conversation and raise awareness on financial inclusion issues in Nigeria, which struggles as the poorest nation in the world by metrics of citizens in extreme poverty.
Ms Lehle Baldé holds a B.A in communication from the University of Waterloo in Canada and a master's degree in international marketing Strategy from the University of Northampton in the United Kingdom.
Ms Baldé is also the columnist behind BusinessDay Culinary Delights', a weekly column that tells positive food stories about the fantastic restaurants in Nigeria. The editor of the Business Day CEO magazine and the co-producer of The Bridge Talk Show season 2 and 3, a television program aimed to bridge the financial knowledge and information gap for millennials.
The Future Awards Africa Prize for Governance
Olumide Alonge, 27.
Governance extends beyond elections and political office, this is something Olumide Alonge understands. This is why rather than focusing his sizeable talents into election cycles, he is committed to working as a transformational leader that currently works with the Private Sector Health Alliance of Nigeria; the Innovation Lead, who spends a significant time working with social entrepreneurs in Nigeria to develop innovations that solve everyday social problems.
His passion for public service is also present in his community programmes, where for over ten years he has worked with the Child Health Advocacy Initiative (CHAI) in over 600 communities reaching over 11,200 girls in Southwest Nigeria to eliminate female genital mutilation (FGM), through mass education and advocating for government officials to enforce that already existing forbidding the practice across the country. The scope of his work with CHAI includes organizing a national press conference; training youths within communities to act as ambassadors and anti-FGM youth champions; and grass-roots advocacy to community and religious leaders.
He has also committed his time and talents to improving grassroots healthcare, working with over 60 healthcare startups to improve the various aspects of healthcare delivery. He supported in incubating a low-cost testing kit for Malaria in Nigeria called Fyodor UMT, now available in pharmacies in Lagos, significant given that malaria is endemic in Africa and accounts for over 90% of the world's Malaria related deaths.
Jude Feranmi, 28.
Jude' Feranmi Kolawole Adejuwon, JFK, is a changemaker at the African Leadership Institute Pakati Initiative and the Founder of the Raising New Voices Initiative, a citizens movement working towards political reforms in Nigeria with members in more than 25 states in the Federal Republic of Nigeria. He is also the pioneer Executive Director of ToBuildANation, and former National Youth Caucus Leader of KOWA PARTY.
Between 2019 and 2020, Jude worked as an innovation policy entrepreneur at Founding Networks and as a Civic Advocate leading the Raising New Voices team to start and accomplish the many projects. In 2019, Raising New Voices – through crowdfunding resources, campaign materials and volunteers supported 25 young Nigerians under 35 running for the post of Member, Federal House of Representative and organized the digital campaign – #NoToElectionViolence.
Jude as pioneer Executive Director of ToBuildANation from January 2020 to March 2020 mobilized about 4000 Nigerians across 25 states in all the geopolitical zones in the country to write the National Assembly, after which he resigned in April 2020.
As Convener of Raising New Voices Initiative, Jude's team partnered with Center For Liberty in June 2020 on a full 263-page review of the current Electoral Act Amendment Bill in the Senate. He also led the presentation to the Independent National Electoral Commission (INEC) in September 2020 of a blockchain-backed solution for electronic voting as an option for 2023 General Elections as part of INEC's call for e-voting solutions.
Cephas Ayako-Ashwa, 28.
As one of the youngest winners of a state constituency seat, there has been a lot of scrutiny on the tenure of 28-year-old lawmaker Cephas Ayako-Ashwa. The winner of the Konshisha State Assembly Constituency seat, Benue, defied odds by contesting and winning under the African Democratic Congress, ADC, an opposition party with significantly less national influence than the country's major political parties. Ayako-Ashwa further consolidated his position by being voted in 2019 as the Minority Chief Whip of the Benue State House of Assembly, a position that gave him more influence but also more visibility. Everyone is watching, and so far Hon. Ayako-Ashwa is delivering.
The lawmaker has been focused his energies this year on registering students from his constituency for the 2020 UTME, in line with the fulfilment of his many campaign promises in the 2019 election, especially in the area of education. As one of the more impoverished states in the country, access to tertiary education could help bridge the skill gap that exists in the state and allow it compete favourably with larger and more developed states. His work has been on ensuring youth in communities across Benue state are equipped with the necessary skills needed to stand on par with their peers in other countries and the world.
Alex Adekunle James, 28.
Outside of the election cycles, grassroots engagement is a significant part of governance that is often overlooked by public officials. With widespread illiteracy and corruption crippling systems that would otherwise ensure civic education and self-determination is taught to all Nigerians, it has fallen on young Nigerians with a mandate to improve governance like Alex Adekunle James to fill the vacuum and provide much needed civil education. Through his foundation, the Rivers In The Desert (RID) movement, Adekunle James spear heads a spearheaded series of governance projects across 10 cities (Ibadan, Edo, Kebbi, Kaduna, Lagos, Akure, Abeokuta, Ile-Ife, Ota and Uyo), among other community-based projects.
Combining his faith and his passion for governance, Adekunle James mobilizes young Nigerians across interdenominational Christian backgrounds to find joy in political representation and become actively involved in grassroots politics. He trains and mobilizes several teams to organize seminars and conferences in several states, among which are, Youth-in-Government Conference Series, RID Secondary School Tour Ibadan and Kaduna, and Independence Day National Transformation Dialogue. He is also the author of "101 Secrets towards Achieving the Nigerian Dream" which has helped create a burden and passion for Nation-building in hundreds of youths. In the 8th National Assembly Abuja, he was the Legislative/Media Aide to a Legislator, "Senator (Dr) Prince Gbolahan Dada" an appointment that gave him a closer peep into the workings of the Nigerian Federal Government.
Oluwaseun Temidayo Fakorede, 28.
Hon. Oluwaseun Temidayo Fakorede, professionally known as The Seun Fakorede, is a proactive, seasoned and dedicated professional with over ten years of experience providing comprehensive administrative, operational and managerial support to various organizations. Seun's expertise lies in coordinating and leading administrative and operational functions for senior-level personnel and executives.
In August 2019, Seun was appointed as the Honorable Commissioner for Youth and Sports, by the executive Governor of Oyo State, Engr. Seyi Makinde. Furthermore, he firmly believes more African Millennials are going to lead a tremendous impact in the next few years of human history than ever before, and he is committed to raising more men to lead this vanguard.
A highly sought-after International Speaker and renowned Pan-African Leader, Seun is regularly booked to speak, facilitate workshops and deliver keynote speeches at notable high-profile events locally and Internationally. His passion and work have promoted leadership development and accountability for Millennials as critical indices to Africa's development through seminars, conferences and other platforms.
An Engineer, Entrepreneur, Consultant and Author, Seun together with his fantastic team at Home Advantage Africa (HAA), the non-profit devoted to promoting local dominance and global stardom in Africa through digital storytelling and other sustainable development projects.
Adebusayo Olateru – Olagbegi, 27.
Revenue generation is the lifeblood of any government. It provides the fuel for development and innovation, empowers the citizenry to advocate for their needs and justifies government initiatives. In Nigeria, state government are committed to raising internally generated revenue and freeing themselves of the limitations of federal handouts. As the Ondo State Special Assistant to the Governor on Revenue, Adebusayo Adegbegi-Olateru understsand this pressure better than most, but she is also equipped to make tangible, lasting change.
She holds a degree in Business and Management from Aston University, Birmingham, United Kingdom and has since specialized in the Finance sector, building a career in this field. Within the past one year, Adebusayo has spearheaded a 189% increase in the IGR of the state, led the successful implementation of innovation in revenue collection (from analogue to digital) which has helped with ease of payments and has held successful stakeholder engagement meetings with citizens of the state. Her efforts within the state opened up a door for her at the Ondo State Development and Investment promotion agency where she currently serves as the Head of Strategic Projects and Special Assistant to the Governor on Strategic Investments.
She is committed to finding sustainable ways to improve business relationships in the state, attract direct foreign investment and power the citizens to scale their chosen businesses and help usher the state into an era of prosperity, and is working tirelessly to achieve this.
Joana Kolo, 26.
Recently appointed as Kwara State's Commissioner for Youth and Sports, Joana is the youngest commissioner in Nigeria. She is the first commissioner to not have the pall of Nigeria's stellar performance at the 1994 World Cup hang over her tenure as commissioner, offering her a clean slate to create her own template for progressive sports engagement in Kwara state.
Since her period as commissioner, she has been working on one of the biggest problems of sports in Nigeria, which is funding. Over the years, athletes got little or no financial support from the sports ministry, and she is trying to tackle this through innovative funding methods that include private sponsorship for promising athletes. She is also working on initiatives that help young sports enthusiasts get all they need to lead successful careers. Her focus during the Pandemic has been on creating an enabling environment that promotes youth and social development services that give succour to the vulnerable driven by highly committed and motivated personnel.
There is much for Kolo to do and enough time to make a dent in the behemoth that is sports in Nigeria, but she also represents hope for a generation of Kwara State athletes who finally have someone in their corner in a government that seems to completely misunderstand youth.
The Future Awards Africa Prize for Service to young people (aged 55 and below)
Mosunmola 'Mo' Abudu
In 2020, Mo Abudu made a shocking announcement. After more than a decade on the cable network DSTV, she was pulling her much beloved cable channel Ebony Life TV and moving its content to her new on-demand streaming platform, Ebony Life On. This kind of swift, decisive decision making in line with the most cutting edge of global trends is why Mrs. Abudu has remained at the forefront of the media and film industry in Nigeria and continues to inspires millions of young Nigerian entrepreneurs.
Her tireless work to redefine entertainment through an African lens, validated via her success as a successful Entrepreneur, Media Personality, Talk Show Host, TV producer, and founder of EbonyLife TV is a source of inspiration and motivation for many.
She has produced over 5,000 hours of original television shows and seven feature films that reflect a multidimensional African reality that is pioneering, cosmopolitan, and progressive. One of her latest projects is EbonyLife Place situated in the heart of Victoria Island, Lagos – a luxurious lifestyle and entertainment resort, opened in December 2019 that has created job opportunities for many youths in Nigeria.
In January 2020, American entertainment company AMC Networks announced its partnership with EbonyLife to produce Nigeria 2099, an afrofuturistic crime-drama. Most recently, American streaming giant Netflix signed a multi-title deal with Mo Abudu's EbonyLife to create two original series along with multiple branded films, cementing her future in the industry as a deal maker and door opener for young Nigerian creators and media enthusiasts.
Michael 'Don Jazzy' Ajereh
For a truly comprehensive understanding of the impact Don Jazzy has had in the last 15 years, you would have to consider his influence on the Nigerian music industry. Since the mid-2000's Don Jazzy has been a considerable force, midwifing the careers of some of the country's most sucessful musicians and heading two of the country's most successful music labels. Don Jazzy's time on both platforms is characterized by an uncommon integrity, amicable partnerships and partings and a network of good will which has taken major creative risks by creating platforms for a generation of young Nigerians, who have gone on to contribute positively to the economy.
In the last year, Don Jazzy has become less reclusive about his personal life and has put his weight behind social causes. He was a regular fixture at the 2020 #EndSARS protest, lending his voice and using his platform to raise awareness about the demands of the protesters. He also partnered with the United Nations Development programme in its initiative to use media and cinema to educate and empower disadvantaged demographics within Nothern Nigeria. He consistently uses his personal wealth to empower others through giveaways and other social initiaitives including partnerships with the brands he represents. Considered a youth leader, Don Jazzy has been offered many opportunities to represent Nigerian youths in public forums, opportunities he passes on to other youth advocates who have shown more vocal interest in the causes he is asked to speak on.
Don Jazzy empowers young Nigerians, advocates for their needs and desires uses his platform to elevate their voices and contributes his quota to nation building, an example we could all learn from.
Lola Shoneyin
As the founder and facilitator of the Ake Books and Arts Festival, Lola Shoneyin pulled a coup in 2020, when faced with a global pandemic, she shifted tack and created the continent's first fully immersive virtual literary festival. Not one of her 100+ guests were unable to contribute to the festival and millions of young Africans who have come to see the festival as a beacon of equality, hope and unity were finally able to participate virtually in the festival for the first. A model of innovation and true grit, Lola Shoneyin (born Titilola Atinuke Alexandra Shoneyin), is a Nigerian poet and author who launched her debut novel, The Secret Lives of Baba Segi's Wives, in the U.K. in May 2010.
She is one of the driving forces behind the country's and continent's literary renaissance. Today, Shoneyin is also the director of Lagos Aké Arts and Books, one of the most significant literary festivals on the continent and has also written for newspapers, including The Scotsman, The Guardian, and The Times on issues such as racism, Nigeria's tradition of polygamous marriage, the Nigerian terrorist group Boko Haram and the elections of now President Muhammadu Buhari.
Some of her recent accomplishments revolve around her love for ensuring; she passes her knowledge to the younger generation by preserving the African culture. Hosting the Ake Festival annually, she brings youths from across Africa to connect and learn about themselves and their culture.
Sam Adeyemi
Sam Adeyemi founded the Daystar Leadership Academy with the vision to raise exceptional leaders and managers that would transform the world. His passion to help people realize their life purpose, led him to start the programme. In the past one year, Sam has helped many young people succeed in their endeavours by providing them with the motivation they need in the race of life. The Academy offers the following courses – Basic Certificated Course in Leadership, Weekend Leadership Certificate Course (Basic and Advanced), Executive Leadership course (Basic and Advanced), Basic Leadership Course for Teenagers. Over 20,000 students have graduated from the academy since its inception.
As a religious leader, Pastor Sam Adeyemi is not afraid to model exemplary behaviour and use his influence to sway public opinion in favour of progressive ideas. He was one of the first pastors to publicly question Pastor Biodun Fatoyinbo's refusal to publicly address accusations of sexual assault, crystallizing the church's position on assault and assuaging millions of religious adherents. His leadership was also integral in ensuring Christians adhered to the Coronavirus lockdown restrictions earlier in the year, saving lives and helping to flatten the curve on the country. Pastor Adeyemi has also shown solidarity with the #EndSARS protest against police brutality and ensures he is always on the side of the youth and the side of progress.
Orode Dorothy
Dr. Orode Doherty is a US Board-Certified Pediatrician and Public Health Physician and Founder and Medical Director of Ingress Health Partners. Here she is working on expanding integrated comprehensive primary healthcare employing a continuity-of-care model incorporating anticipatory guidance and behavior change at community level, integrating this with technology and expanded partnerships to optimize outcomes.
She is also the founder of The African Children's Hospitals Foundation, established with the aim of significantly expanding access for children in Africa to quality specialty care at designated dedicated Pediatric centers. She received Pediatric training at the Lagos University Teaching Hospital and the Children's Hospital of Pittsburgh where she was an award-winning Pediatric resident and clinician. As pioneer Pediatrician in ICAP, Columbia University, she led teams that established over 100 maternal and newborn care clinics for mothers living with HIV in several states in Nigeria, creating curricula for training health providers and tools for supervision. Until recently she was Country Director for Africare Nigeria, where she provided thoughtful leadership around enhancing the capacity of women and their families to improving health and livelihoods through behavior change, education and enhanced access to resources and technology.
At Africare, she worked extensively with youth programs integrating sports and life skillsHer 28-year professional career has spanned clinical and academic pediatrics, health and hospitals systems strengthening, community development, establishing livelihoods and the promotion of life skills in youth. She is a Fellow and a moderator of the Aspen Global Leadership Network. She is also a moderator of the Kashim Ibrahim Fellowship Program in Nigeria, a fellowship for young people committed to public service.  She holds a Master's in Public Health (Maternal & Child Health) from Harvard University's School of Public Health.
Mohammed Ibrahim Jega
There is a common but subversive perception that sans the civil service or political office, Northern Nigerians do not contribute significantly to the continued growth and progress of Nigeria. Mohammed Ibrahim Jega exists to challenge those stereotypes and inspire a generation of Arewa Youth to make their voices heard and impact felt in fields like technology, finance and innovation. The Founder of Startup Arewa has been promoting technology as a channel to economic and social emancipation since 2016 and connecting young entrepreneurs with innovative ideas to funding and mentorship from some of the world's largest conglomerates.
Jega started his career in technology as a director for the payment platform VoguePay. Without venture capitalist funding or government concessions, Jega was able to guide Voguepay to become one of the country's more prominent payment platforms. Such is the success Voguepay has enjoyed with Jega at the helm as Chief Business Development Officer. With commendations from the Vice President of the Federation, Professor Yemi Osinbajo and the endorsement of Silicon Valley, Jega has been able to expand StartupArewa into a network of 19 hubs across Nigeria, reaching thousands of young Nigerians and empowering them through business innovation.
Jega joined Blockchain startup KickCity, extending the lessons he learned at VoguePay and StartUp Arewa to blockchain technology. He was also announced as a director of the Founder's Institute in February 2020.
Olajumoke Adenowo
There is a huge disconnect between the women of Nigeria's boomer generation and its millennial and Gen-Z populations. Differing in experiences, opportunities and values, there is often friction when both demographics interact and only a small percentage of older women are able to bridge that gap and provide timely, tangible support to younger women as the navigate the many difficulties of a post-millennial world. For Olajumoke Adenowo, winner of Forbes Woman Africa Entrepreneur Award for 2020, a multiple award-winning Architect and Philanthropist, who when profiled by CNN was referred to as 'Africa's Starchitect', her many accolades are second fiddle to her extensive work in philanthrophy and social activism.
Mrs. Adenowo used her wealth, influence and access to raise funding for disadvantaged women and youth. She is quite passionate about caring for young girls from the slums of Lagos who are at risk of sexual abuse and HIV/AIDS and works with local and international non-profits to facilitate health interventions in these at-risk communities, funding medical screenings and educational intervention. She closely mentors women for global leadership and entrepreneurship through vocational training, business classes and leadership training that takes place across Nigeria, reaching over 1,350 people in the last year.
With over 30 years of experience in Architectural practice, she has designed and executed over 70 buildings. She is also recognized as one of the 100 most Influential Nigerians and named as one of the Most Inspiring Women in Nigeria. She is featured amongst other globally prominent people of African Ancestry in the Black History Hall of Fame in the University of West Bristol, UK.
The Future Awards Africa Prize for Young Person of The Year
Odunayo Eweniyi, 27.
PiggyVest started with a single tweet: One that wondered if it was possible to digitize the basic idea of saving in a 'Kolo' for a rainy day by saving incremental amounts on a daily, weekly or monthly basis. As at the time this idea was initially formed, Odun Oweniyi was already a regular on the nomination circuit for the Future Awards Africa. Her earlier startup Push CV had been nominated for the Prize in technology and even though Push CV didn't win, it provided some validation that Ms. Oweniyi's innovative ideas were being noticed.
The idea for the startup came in December 2015 as co-founders Somto Ifezue, Odunayo Eweniyi and Joshua Chibueze were reducing the staff size of PushCV, a still-existing human resources startup they founded, from 25 to 6 people. This was as a result of low funds but with a zeal to 'hack millennials' they had the energy to keep throwing things on a wall and hope something stuck.
A year later, PiggyVest (initially called PiggyBank) would help about 450 users save ₦21 million ($54,320), a feat achieved with Twitter-enabled bootstrapping with next to nothing spent on marketing.
Piggyvest is the first online savings and investment app in West Africa, with one mission to give everyone the power to manage better and grow their finances. Its success and wide acceptance has spawned a whole industry of copycats and cemented the validity of the Piggyvest idea. Each year, Piggyvest grows, offering a more immersive experience for its users and providing that all important pocket for the hypothetical rainy day that spawned the idea in the first place.
When Ms. Oweniyi is not helping the continent save, she is investing in other tech projects or advocating for women's rights through Wine and Whine NG, an NGO she founded with another nominee this year, or upending oppressive governments through Feminist Co, a women's collective founded in 2020.
Shamim Nabuuma Kaliisa, 24.
Kaliisa easily has the best introduction story to tell at venture capitalist fundraising mixers, she is a cancer survivor at 24 who went on to become a startup owner whose business specializes in Artificial Intelligence applications for the medical field. Her company Chil Artificial Intelligence Lab was founded out of both passion and personal experience.
At 13, Kaliisa had the unfortunate tragedy of having to nurse her sick mother, who eventually lost her battle with cervical cancer at the Uganda Cancer Institute. As a last wish, her mother asked that Shamim study medicine and find a way to extend tertiary medical services like cancer detection and treatment to women in itinerant villages in Uganda who lacked access to even extensive primary healthcare. If Kaliisa had any hesitations about following through with her promise to her mother, another personal tragedy brought the message home in a visceral way.
During her second year pursuing a bachelor's degree in medicine and surgery, she felt an unusual pain in one of her breasts. She got it tested and the results returned positive. A mastectomy to remove tissue from one of her breasts was the only way her life could be saved. These experiences led to her founding a company in 2017 to offer mobile cancer screening, which later incorporated the use of artificial intelligence guided e-oncology services (to detect cervical and breast cancer). Today, her company also incorporates drone services for easier transportation of cervical cancer specimens from the rural areas to laboratories without women having to travel long distances out of the villages.
Kaliisa, who locals refer to as "mama cancer", is a winner of the Takeda Young Entrepreneur Award 2018, Young African Entrepreneur Award 2018, Social Impact Finalist AWIEF Awards 2018, has received an Honourable Mention at the Maathai Impact Award 2019, and was chosen among the top 10 artificial intelligence companies founded in Africa by Google for start-ups. She has also been endorsed by the Tony Elumelu Foundation.
Ogutu Okudo, 28.
In 2012, Lucky Okudo found herself at a conference on the outskirts of Nairobi discussing environmental sustainability and the strategic role women play. At the same time, on the opposite end of the continent in the Niger Delta in Nigeria, communities were protesting the negligence in operations by oil companies resulting in oil spills. She was struck by the gender disparity of those conversations and how the opinions of men, many of whom were only indirectly affected by the adverse effects of oil explorations deigned to speak for women. She was inspired then to create a platform that centered women professionals in these all-important discussions.
She founded the Women in Oil and Gas East Africa (WIOGEA), later changing the forum's name to Women in Energy & Extractives Africa [now known as WEX] to better reflect its objectives. Okudo couldn't have predicted that merely a year later, Kenya would be forced to contemplate the same dilemma that had inspired her to start her forum when Oil reserves were found in Kenya's disadvantaged Turkana County, endangering the livelihoods of pastoral Turkana women. Part of WEX's role then was to speak for women in the energy and extractive sector, informing industry participants and decision-makers of the challenges and opportunities women are finding in pursuing careers in these sectors. Okudo works tirelessly to increase the visibility of WEX and encourage women in Oil and Gas to embrace it as a viable forum for their concerns.
Today, WEX Africa is a social enterprise bridging the gender gap in the oil, gas, mining and alternative energy sectors in Africa with 15 employees in five countries and over 75 volunteers in 10 countries and counting. At only 28, Okudo has already been hailed potentially as the next Folorunso Alakija of Africa.
CNN Africa Voices referred to her as "the woman on a mission to disrupt the energy sector" and is a recipient of numerous of awards including President Uhuru Kenyatta recognizing her in 2018 as one of the young female Kenyan trailblazers, being awarded the Under 30 Women in Energy East Africa (2018) and in 2019, the Kenya Upstream Oil and Gas Woman of the Year.
Okudo sits on numerous boards advising their strategic operations in East Africa including Bboxx Kenya, the London-based next generation off-grid utility platform operating in 15 countries developing solutions for off-grid communities by providing affordable, pay-as-you-go solar power, impacting over a million people.
O'Plérou Grebet, 22.
Quiet, creative and impactful are pretty much the words that sum up O'Plérou Grebet, the Ivorian graphic designer on a mission to promote African cultures in modern and interactive ways. He is the founder and creator of Zouzoukwa, an Android and iOS app which allows thousands of African people to communicate more clearly using stickers and emojis representing African culture.
He has created 365 free emojis that portray contemporary African life. These include three-legged pots, djembe drums, women dressed in ankaras, tuk-tuk vehicles, African masks, hair braids and shekere, a West African percussion instrument made with a dried gourd; all this self-taught watching YouTube videos.
Using art, culture and technology, Grebet is sharing West African heritage to the world. He has since featured in numerous publications, locally, and internationally, including the New York Times, CNN, NPR and Fast Company. The app has been downloaded more than 100,000 times in less than a year. Grebet funnels the attention the app receives via social media towards education initiatives that introduces Africans at home and in the diaspora to the diverse cultures on the continent, promoting pride and acceptance among these communities. The African Talents Awards named Zouzoukwa the best app of 2019.
Currently, the Ivorian has been using tech to create Instagram Augmented Reality filters.
Wisdom Mawuli Parku, 26.
The Forbes 30 under 30 list for 2020 is good company to be in, especially if you are Wisdom Mawuli Parku, the CEO of Majora Group, a diversified holding company with its corporate headquarters in Obuasi, Ashanti Region of Ghana. Parku is at the right place at the right time, the black renaissance that has enveloped the black diaspora had led to an unprecedented spike in travel to the continent and entrepreneurs like Parku offering luxury travel and accommodation options in the country are the first port of call for visitors and an important part of the tourism experience for these repatriates, seeking out their roots.
Parku's compnay is diversified to offer world class services for all the possible needs of this demographic as well as other tourist classes visiting the country through its four operating subsidiaries – Majora Travels and Educational Consult, Majora Business Center, Majora Photography and Vision Aid Foundation (a non – governmental organization). The company offers services ranging from Flight Reservation, Airline Ticketing, Tour Packages, Hotel Reservation, Corporate Travels and Education Consultancy as part of its travel services.
Through Vision Aid, its non – governmental organization, Parku is able to give back to the communities that provide an authentic experience for tourists and keep the industry alive by providing clean, safe to drink water to deprived communities through the construction of boreholes. The foundation again performs other charitable donations to public institutions in Ghana.
Parku aim to be a leader in all the sector of businesses that operate by applying modern technology with well – motivated and competent employees that provides the maximum satisfaction to its guests while providing value to the communities in which it operates. The continent is ready for an indigenous travel experience helmed by local talent and Parku is the man to do it.
Dineo Lioma, 28.
Dineo Lioma believes technology is the future of business in Africa. It is a belief she has committed to in all three of the businesses she has co-founded, Incitech, CapeBio Technologies and Deep Medical Theuraptics, because she understands that the age of industrialization as a solution to deep seated social problems is no longer viable and now, businesses must apply technology to solve pressing human problems. Across Africa preventable and treatable diseases continue to decimate whole communities, and international pharmaceutical companies, more concerned with profit than human life continue to drag their feet in their pursuit of progressive, easily applicable cures. Lioma has no time or patience for their games and is ready to muscle in on their territory.
In cooperation with IBM, her company Deep Medical Therapeutics is working on artificial intelligence (AI) systems for helping doctors determine the best therapies for drug-resistant diseases, like Tuberculosis. Her company CapeBio Technologies manufactures laboratory reagent enzymes for use in molecular biology research, making them more easily accessible to African research facilities and reducing the cost of shipping fragile medical materials.
She is also interested in solving short term problems. In 2020, she partnered with Daniel Ndima to develop a rapid test kit for Covid-19 to ensure that her community is safe. Lioma believes in creating meaningful solutions that will impact the status of health care in Africa, benchmark products against the best in the market and help Africa remember the commercial aspect of science through her work. And she has been honoured for her work with a mention as one of Forbes Africa's Top 20 Wealth Creators as well as an honourable mention on the Mail & Guardian's 200 Young South Africans List. The future is Lioma's for the taking.
Divine 'Rema' Ikubor, 21.
If you asked a room full of music enthusiasts where Nigeria's next mega popstar would come from, no one would have mentioned Edo state. The sleepy city best known for its thriving culture and its phenomenal bronze artists, is woefully underrepresented in the Nigerian music industry's top echelons. Divine 'Rema' Ikubor has come to change that. Discovered by D'Prince and signed to Jonzing World, an imprint of Don Jazzy's Mavin Records, Rema has quickly proven himself a chameleonic singer, songwriter and rapper able to bring a sense of wonder to multiple genres while holding the collective interest of the world.
Rema's debut E.P. will be remembered for defining a new era for Nigerian pop. He was one of the first Nigerian rappers to create music specifically for a Gen-Z audience, tailoring his earlier work to visually appeal to younger teenagers while meeting the strict expectations of their parents. His adventurous writing is delivered with a distinct voice and a rare mix of afrobeat rhythms and western sub-genres. He has released two more projects since; 'Rema Freestyle' – a collection of trap-influenced Instagram freestyles hewn into radio-ready singles and October's 'Bad Commando' which ushered him onto the global stage with a delicate balance of the styles he's become known for.
His ascent to global recognition was defined by landmarks such as the Barack Obama summer playlist and multiple hits including 'Iron Man', 'Dumebi', 'Lady' and 'Bad Commando'. He continues to evolve, experimenting with his sound and appearance and winning fandoms as he goes along. As a young innovator with a global sound, Rema has the added challenge of serving as an ambassador of the continent to a world in turmoil and trying to unlearn nearly a century of negative stereotyping around Africans. It is a tall order for someone so young, but Rema has proven himself a keen observer of human nature with a distinct point of view and no hesitations sharing it.
He just might be what we need for these times.