Ghana President-elect, Nana Akufo-Addo is keynote speaker at The Future Awards Africa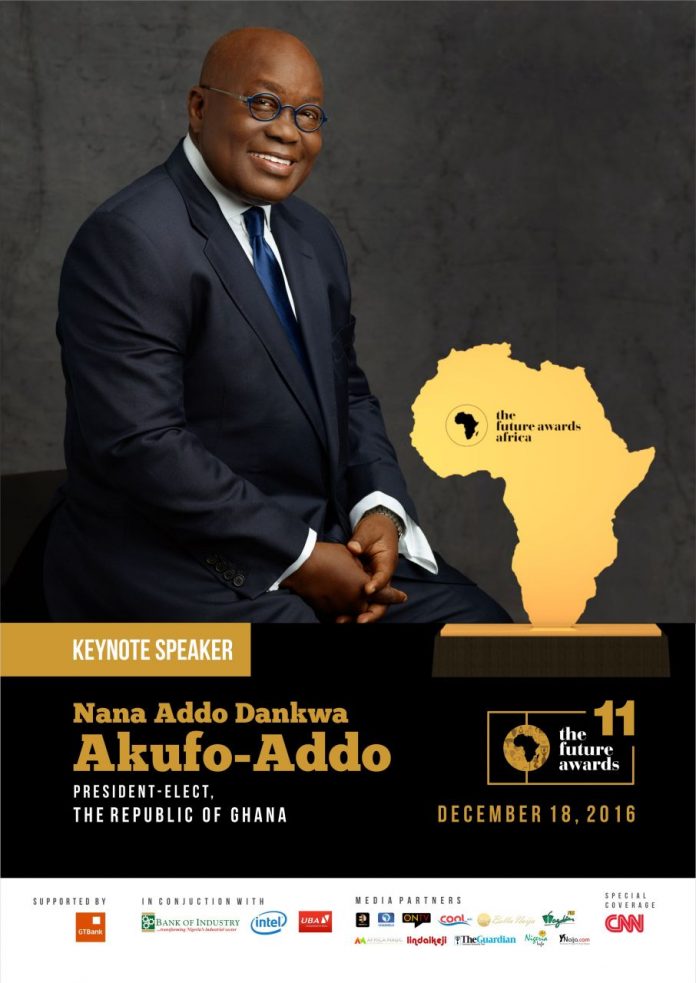 The Future Awards, Africa's biggest youth event, has announced the keynote speaker for its awards ceremony.
The keynote speakers of the Awards, in past editions, have been role model leaders, with exemplary profiles and global relevance, in persons of Dr. Okonjo-Iweala, former Coordinating Minster of the Economy, former Vice President of the World Bank, Obiageli Ezekwesili, to name a few.
This year's edition is no different. The keynote speaker for the Future Awards Africa 2016 is: Nana Addo Dankwa Akufo-Addo, President-elect of the Republic of Ghana. Dr. Akufo-Addo is a man of the people, who recently emerged victorious in Ghana's presidential election, after inspiring Ghanaians to vote for change. Before he became a politician, he used his law practice to champion the cause of human rights, rule of law, justice, freedom, and democracy.
In business, he was also responsible for, the introduction of mobile telephony into Ghana.
Undoubtedly, Nigeria has a lot to learn from a visionary leader who puts the people he wants to serve first.
Nana Akufo-Addo said, of the Future Awards Africa, "This is a great initiative. Africa's future lies in the hands of the empowered youth who have taken up the charge to shape it. I am looking forward to meeting my neighbours and friends, and to help echo the message of inspiration."
He will be bringing his vast wealth of knowledge and experience to bear when the awards ceremony is held on Sunday, 18th of December, 2016, at the Federal Palace Hotel, Lagos.
Tell us how you are shaping the future and share your contribution as a key player in Nigeria's future and Africa's destiny. Tweet at us with your messages or videos using these hashtags #ShapingTheFuture #KeyPlayerTFAA2016 #TFAA2016
The Future Awards Africa 2016 is powered by RED. Official Media Partners are CNN, EBONY LIFE TV, CHANNELS TV, BELLA NAIJA, LINDAIKEJI, AFRICA MAGIC, WAZOBIA FM, COOL FM, NIGERIA INFO and YNAIJA.
For more information, visit awards.yafri.ca. Follow @TFAAfrica to keep up with the latest news on TFAA. The official hashtags for 2016 is #TFAA2016