The Future Awards Africa Prize for Community Action – 2020 Nominees profile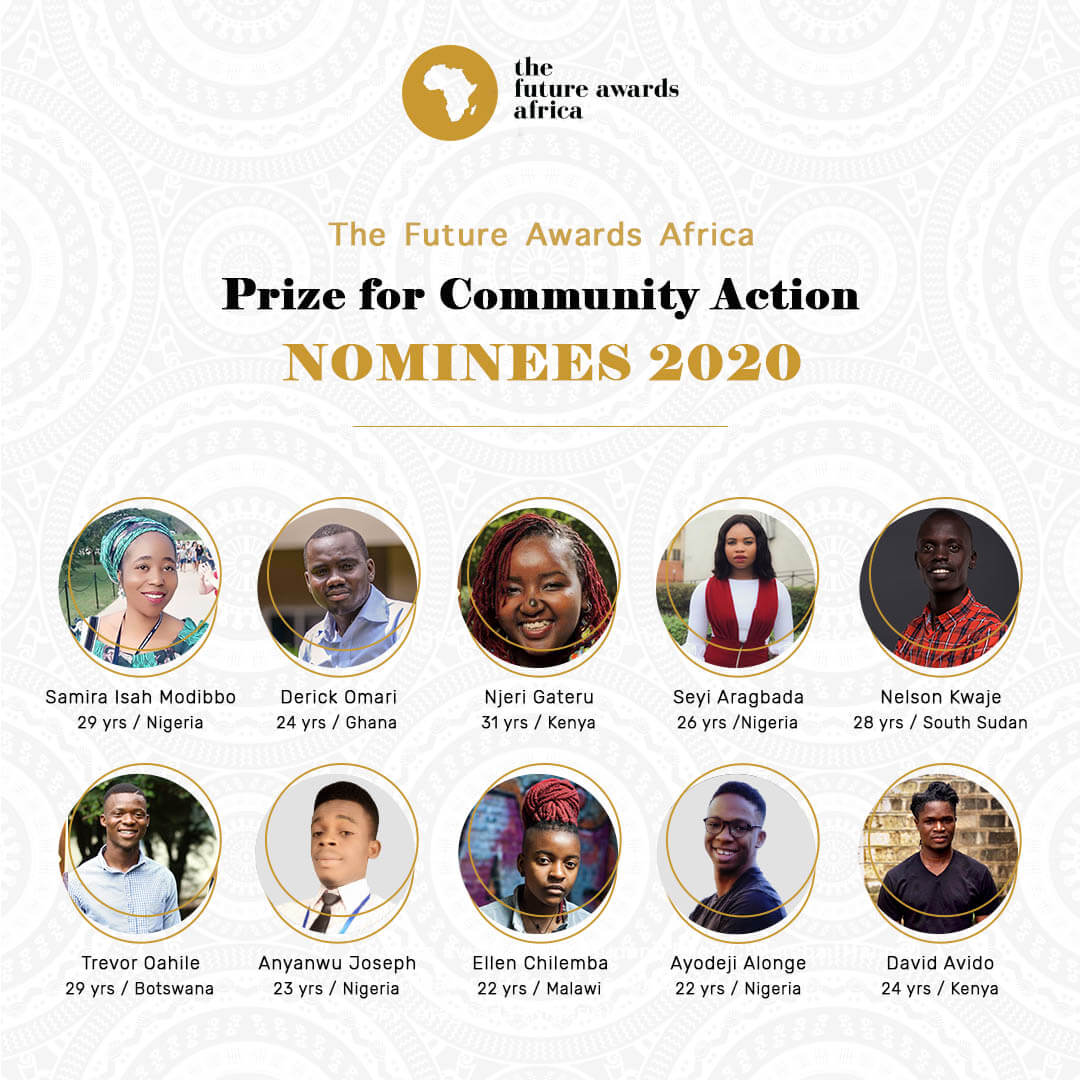 Now in its 15th year, Africa's most prestigious award, The Future Awards Africa, has announced the nominees for its prize for community action in commemoration of this year's International Youth Day which holds August 12, 2020.
The Future Awards Africa (TFAA), are a set of awards given by The Future Project (TFP), to honour and celebrate young people between the ages of 18 and 31, who have made outstanding achievements in the year under consideration.
In line with the theme of International Youth Day 2020, 'Youth Engagement for Global Action', the award highlights outstanding young Africans building communities despite the COVID-19 pandemic, individuals across Africa.
The nominees, in no particular order, are:
---
Ellen Chilemba (22) – Malawi
An award-winning social activist and entrepreneur, Ellen Chilemba has through her organization – Tiwale Women's Centre – trained over 150 women as entrepreneurs, while also offering grants, loans, and lessons that would lead to female empowerment and independence.
In 2019, she organized micro-loans for 40 women in selected communities to start businesses, analyzed and launched a vocational skills training program which engaged about 250 women in fabric dye-printing, sewing, and fashion design. Her women's centre succeeded in gathering educators in Malawi to launch a day and night school for 500 women.
Since the start of the pandemic, Tiwale has shifted gears to produce protective face masks, made in a safe and distanced space by Tiwale community graduates from their sewing workshops. The masks are cleaned and then either donated to essential workers and offices in Malawi or sold to the public to help support their programmes. She has impacted over 2,800 people in Malawi with her mask distribution.

Samira Isah Modibbo (29) – Nigeria
Samira has initiated and led her Haske Edu4Her Project, a program that has educated more than 8000 women and young girls in Rigasa community.
She has enrolled about 113 girls back to school on full scholarship, through engaging stakeholders, and has led a sensitization awareness campaign on the need to educate and empower women and girls.
The campaign reached out to over 20,000 people in villages. Samira coordinated the 23 local government areas of Kaduna State for the Kainuwa Gender Ambassadors project and facilitated the arrest of over 20 sexual abuse (rape) perpetrators with few convictions and other cases ongoing in the courts.
She is succeeding in breaking the cycle of Gender-Based Violence by educating women and teaching them innovative technology-based entrepreneurship, sourcing, and channelling financing to boost their businesses.
Derrick Omari (24) – Ghana
The Founder of Tech Era, a tech-based social enterprise, Derick has bridged the educational gaps for over 2500 persons living with disabilities in Ghana. Derick has been able to train and equip 15 college students in assistive technology innovation, 3D technology, Programming, and electronics to develop assistive technology prototypes that can be scaled and mass-produced.
In 2019, he launched 2 of such prototypes as products for the pilot phase which has reached more than 50 persons with disabilities. He also provided digital skill training to 10 children with autism, down syndrome, and cerebral palsy as an avenue to build communication skills of the individuals, increase their digital literacy, as well as unleash their talents and potential.
In the same year, he also launched the first version of IXAM – a virtual classroom digital platform for the blind that bridges educational gaps visually impaired students face.
He also organises Career Fair for persons with disabilities which connects individuals with disabilities to employees. He emphasizes how technology and digital skills can bridge several employment gaps that exist for persons with disabilities.
Seyi Aragbada (26) – Nigeria
Seyi Aragbada's organization provides educational programs to improve health care and support to people living with epilepsy and their families in Nigeria, bridging the gap between people living with Epilepsy/Mental health disorders every month through an outreach program called Warriors Unite.
Seyi has aligned herself to facilitating the treatment of people living with epilepsy in Nigeria, and has cumulatively reached an estimate of about 347 warriors and impacted over 17,000 lives across various communities. The outreach has affected 764 families. Her initiative also provides mental and emotional support for people with epilepsy, mental health disorder, sexuality, and their caregivers, monthly.
Her recent projects, 'Have You Seen Epilepsy' and 'Warriors talk about it' portrayed the human condition of people with epilepsy in Nigeria and stigma attached to it.
Nelson Kwaje (28) – South Sudan
Through #DefyHateNow, a community fact-checking organization based in South Sudan, Nelson has helped to initiate the #211CHECK collective – a digital community of made of youth working in various fields who collaborate to fight misinformation and raise awareness on Coronavirus prevention and protection. With this, he has reached many communities by providing useful tips.
Nelson also developed an initiative that promotes fact-checking, data journalism, and digital rights among journalists, bloggers, and content creators in Africa.  His peacebuilding collaboration is being enabled to keep the conversations going, develop resources, and support local activist peace-oriented media-based activities.
Anyanwu Joseph (23) – Nigeria
Having found that that majority of gutters in Port Harcourt are in a state of neglect, Anyanwu began a pursuit to ensure that each drainage channel is cleaned out at least once a week to maintain a smooth flow of erosion and reduce flooding and waterlogging in his community. Within the last year, his organisation, Clean Gutter Movement Mission managed to clean out over 73 gutters in 20 communities in Port Harcourt coupled with monthly follow-ups.
Trevor Oahile (23) – Botswana
An Economics student at the University of Botswana, and a radio host of a sexual reproductive health rights program called 'Don't get it twisted', Trevor also organises the Condomize Campaign in rural Botswanan areas like Gantsi, Maun, Mochudi, Mahalapye, and Francistown which have little or no access to safe sex information and equipment.
So far, the Condomize Campaign has been able to distribute 1.6 million condoms across the country and sensitize communities about safe sex and the use of protection to combat against the spread of HIV/AIDS pandemic in Botswana.
Trevor also educates and provides young people with information and contraceptives of their choice as a way to fight against HIV, STIs, and unintended pregnancy, reaching over 200 young people every week over the past year.
Njeri Gateru (31) – Kenya
Kenya Njeri Gateru is the founder and Executive Director of the National Gay and Lesbian Human Rights Commission in Kenya, an organization that provides legal aid and strategic litigation towards equality and protection of LGBTIQ persons in Kenya.
NGLHRC has successfully litigated for registration of LGBTIQ organizations and ending forced anal examinations. The organization is currently litigating towards the decriminalization of homosexuality in Kenya.
Njeri also curates the 'Because Womxn' forum – a radical space for dialogue and collective input on leadership, security, and wellness for LBQ identifying women in Kenya. She has consulted and written papers on the realities of LBQ women in Kenya, the asylum regime and SOGIE, self-love and body autonomy, as well as further activism and the online space.
Thanks to her work, there's such an appreciation for the spectrum of LGBT people in Kenya.
David Avido (24) – Kenya
In a bid to solve the unemployment situation in his community, David Avido trained 16 young mothers to sew between 2019 -2020.  He also promotes the African culture by teaching children tie and dye skills and other forms of fabric decoration.
Given the current global pandemic, and subsequent loss of jobs in Kenya, he trained and worked with youths in sewing and distributing over 17,000 free masks within their communities and also giving out locally produced hygienic food packages to over a thousand families.
His drive has impacted communities in Kenya, providing job opportunities and encouraging women to start local businesses.
Ayodeji Alonge (22) – Nigeria
Through his non-profit organization, Child Health Advocacy Initiative (CHAI), he partnered with key organisations to champion the Malaria to Zero Initiative and fight against the malaria prevalence in the country.
Particularly, his efforts included distributing long lasting insecticide nets in under-served communities, donating seasonal malaria chemoprophylaxis (drugs to prevent malaria), industrial spraying of homes in rural communities, and donation of test kits to healthcare centres. His efforts reached over 550,00 individuals and families, and 25,000 pregnant women at risk from malaria.
Furthermore, to end the unfair treatment of young girls in Nigeria, he has covered over 600 communities reaching over 11,200 girls in Southwest Nigeria.